April 7th, 2009
Greetings. Doctor Humphrey Bumfrey, MD, here. I have come to deliver a report on the state of Da Beans. My findings are as follows.
Slump in posting figures
The early days of Da Beans saw exceptionally high posting volumes, with up to 30 posts per month. In the last year this has tailed off. I used science and chemicals and that to find the following causes for the tailing off in posting volumes.
Chris's maudlin state of mind. Finding himself involuntarily in a much changed and confusing personal situation Chris was in no mood for hiliarity for large parts of last year, and found his creative mojo somewhat lacking.
Kev's business plan. Swapping his future career path at short notice from low-key IT professional to something modelled more on Sir Alan Sugar, Kev's keen desire to flog bit of wire and plastic IT peripheral tat to the masses reduced the amount of time he could devote to the site.
Something to do with Ian, though he's a bit of a constant really isn't he.
Recovery in postings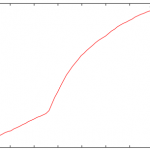 April 2009 has been one of the healthiest months on record so far and it is safe to say that Da Beans is now off the critical list, though it shouldn't remove the bandages just yet. This graph (shown right, right?) shows how the red line has gone up from left to right over a period of time. Through psychic assistance and with a bold pioneering spirit within my heart I divined the following reasons.
Chris's increasingly upbeat posture mentally speaking.
Kev's guilt for not having been around much lately.
Ian's keenness to write new stuff, starting with bits and pieces of Beansness.
I am therefore delighted to award Da Beans a Certificate of Hooray Well Done. Congratulations!
Entry Filed under: Chris,Noos Flash,Quite nice,Shut up