Recently my family and I went on a ride on a boat. It was a magical journey, on a bright sunny day, full of thrilling golden memories.
I took lots of pictures on the boat ride and in this post I am going to share all of them with you so that you can relive this amazing experience with me.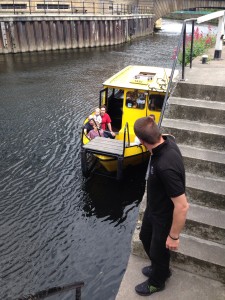 This picture shows the boat coming towards us and the man who helps the boat park near the side waiting for it to get a bit closer. The boat is yellow. At this point I was both excited and apprehensive about the thrilling journey that lay before us. Shortly after this the boat parked and we got into it.
This picture shows the view out of the boat, with part of the side of the boat visible, as we started riding on the boat along the river. The boat is still yellow. You can see a bridge. We went under the bridge.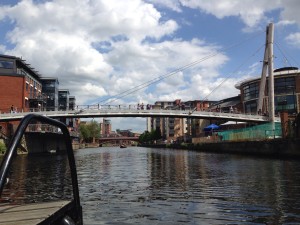 This picture shows another view that we could see out of the boat a bit later, with another bridge that looks different to the first one. The boat is still yellow but now you can't see any of it. You can also see all the people who are not on boats at all who were all really jealous that we were having a ride in a boat. We waved at some of them and we smiled but inside we pitied them.
There aren't any more pictures because we were only on the boat for five minutes and then it parked and then it was someone else's turn so we had to get off.