It's around this time of the year that everyone looks to the future. There is a lot of talk about Christmas and the inevitable run up and everything involved. Let us not forget the things though that are constant. These things that are around us on a regular basis that refuse to give up when times are hard. I am, of course, talking about cheese.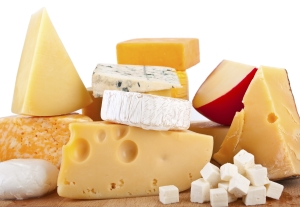 When was the last time you gave a hearty shout out to the marvel of cheese?
When did you last go a bit glossy-eyed about a bit of Brie or a slice of Red Leicester?
There are some members of this website that regularly draw themselves as a large clump of cheese that wanders around London in a top hat. That I confess I have never done, yet I feel a strong affinity with cheese. It hides in my sandwich and tickles my fancy. It stares at me longingly from the shelves, urging me to purchase it.
There have been times when in my darkest moments I have not acknowledged it in the way that it deserves and I am looking to rectify that in any way I can. So here it is, my little flag-waving entry in the long history of the Beans to pull up a chair and put my arm around that most helpful and comforting of fellows. Ladies and gentlemen, I give you cheese.
(Addendum: this post was created in conjunction with the fact that homage rhymes with the French word for 'cheese').