You have to pay the toll. That's the way it works.
In order to get past you have to stump up the money or whatever is needed. You have to satisfy the teller to avoid salmonella. You must grease the wheels to sort out your shady deals.
I am about to venture down South towards the magical, Icelandic borough of Royskopp in order to meet Sheriff Rockingham himself. I have heard terrible, terrible rumours of the gentleman who he currently lives with though. Hushed tones have informed me that Steve Steveingtons is a violent wretch. I once sent him a Superman t-shirt which he loved with all his heart. One day he wore it to the pub, somebody accidentally spilled some lager on it and the authorities are still finding bits of people weeks later, scattered around the neighbourhood. A man with a temper like this needs to be appeased.
So what do you do? I understand that Steve Steveingtons is a big fan of the Trek through the Stars, something from television. Biggles maybe? I have been daydreaming about weird things mashed together and this keeps popping into my head at work. I don't think my pedestrian drawing skills have done it much justice, and it doesn't look anything at all like the one in my mind, but I hope that it is enough to stop him knocking me literally into next week.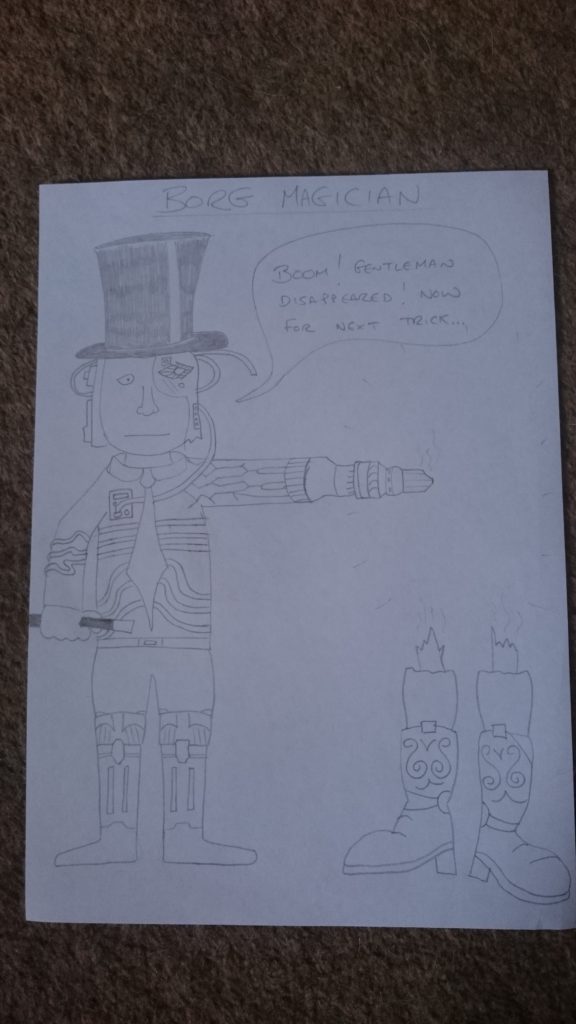 If this should be my last post let it be known that I regret nothing, not even all the Beans comics I wrote.