Today I arrived at work and found this on my desk waiting for me.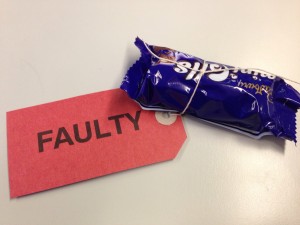 I am confused by this. Red fault tags are supposed to be used to label technical equipment that has been broken and logged with the appropriate department. I have not been trained in the correct protocol to use when cake has been labelled in this way.
Anyway, long story short, I ate the cake. It was nice. It didn't taste particularly broken.
Is anyone here a doctor? If so, can you tell me if I am in any danger? Thanks.