1995 is a fertile year for the albums that randomly arrive in the post without any indication of their provenance. That year has already brought us The Lone Ranger and It's Time. Now it brings us a third forgotten horror, Bugs & Friends Sing the Beatles, subtitled "The Furry Four Sing Their Fab Four Favourites!".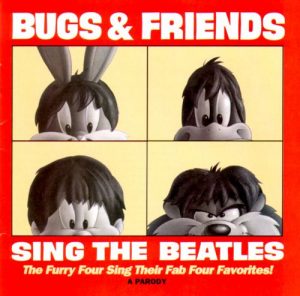 I have to be honest, I don't really know where to start. I loved Looney Tunes cartoons when I was a kid. Bugs Bunny and Daffy Duck were my favourites, and Disney could absolutely do one. So I had a small glimmer of hope that there might be something entertaining about this. Then I put the CD in and – in a Four Word Reviews first – I genuinely had to pause it at the end of the first track to try and gather my thoughts and steel my nerves to get through the rest.
I don't even know what's worst. Is it that they've taken on brilliant, beautiful songs and wilfully converted them into vehicles for terrible puns on other Beatles song names and cartoon fights with lots of sound effects? Is it the fact that almost every song breaks down in the middle into a spoken-word sketch of some kind? Is it that even when they're not talking, they mostly speak the lyrics in "funny" voices or respond to them in some way? Is it the patronising Indian accent in "Fool on the Hill" when Elmer Fudd is asking his swami for spiritual guidance?
Actually, no, I do know what's the worst and it's none of those. It's that you're not even listening to Bugs, Daffy, Elmer and Taz. You're listening to four bad impressions of Bugs, Daffy, Elmer and Taz and they are slowly battering eleven Beatles songs into an early grave. Taz doesn't really matter because he's not in it much, but his character isn't really meant to speak. Elmer's voice is wobbly and cracked and sounds awful when singing. Daffy is vaguely convincing until he does his catchphrase "woohoo!" and then the actor loses the character a bit. And Bugs is… well, I don't know who Bugs is, but he's not Bugs Bunny. It's not convincing at all. He doesn't even speak in the right register. I have never missed Mel Blanc so badly.
| Track | Title | Word 1 | Word 2 | Word 3 | Word 4 |
| --- | --- | --- | --- | --- | --- |
| 1 | She Loves You | She | wouldn't | love | this |
| 2 | The Fool on the Hill | Elmer | Fudd's | harrowing | vocal |
| 3 | Birthday | Includes | reference | to | Laserdiscs |
| 4 | Hello Goodbye | Joyless | Bugs/ | Daffy | argument |
| 5 | With a Little Help From My Friends | Elmer | bludgeons | another | classic |
| 6 | It Won't Be Long | It | was | too | long |
| 7 | Yesterday | Daffy | Duck | singing | "suddenly" |
| 8 | Penny Lane | Oh | god | I | can't |
| 9 | Help! | Yosemite | Sam's | unwelcome | debut |
| 10 | Can't Buy Me Love | No | no | no | no |
| 11 | The Long and Winding Road | Featuring | Roadrunner | "meep | meeps" |
The jokes are bad. The sketches are bad. The scripted-to-death ad libs are bad. The changes to the lyrics are bad. The way they shoehorn other Beatles song titles into their jokes is beyond bad. The instrumental version of "The Long and Winding Road" that featured only backing vocals and Roadrunner – "the long and winding road MEEP MEEP that leads to your door" – was painful. But I think worst of all is that I listened to the album and it made me realise what brilliantly written songs these are and how sad it was to hear them being taken for granted and pillaged for cheap laughs that mostly don't land by people without even half the talent of the original songwriters. It's a horrible parody of brilliant music by people doing a horrible pastiche of a brilliant voiceover artist. There's no joke at the end of this paragraph. It's just really sad.
In all, this was among the worst things I've ever listened to, though still not as bad as "To The Extreme" by Vanilla Ice which is the worst thing that has ever happened to me and will never be matched. My favourite thing about this album was Daffy Duck singing "suddenly!" in Yesterday. My least favourite thing was basically everything else.