What do you do when life makes you weary? How do you lift your spirits from a state of malaise? Well, I don't know what you do, but I get myself down to the Lego Store with my VIP card on double points day.
On Monday I bought this.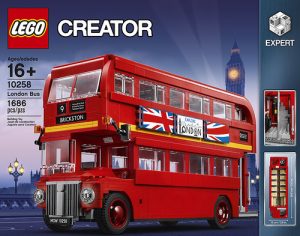 I haven't actually built it yet because I'm, you know, preparing to move house and everything, but it's sitting there in its box just waiting for me. The anticipation alone is enjoyable. Anyway, this particular set is only available from the five Lego Stores in London at the moment – nowhere else and not online – and if you took the trouble to go down there and get one, and you flash them your VIP card like I did, you get handsomely rewarded with extra qualifications. My new set came with this.
Yes, you saw right. I am now the proud holder of documentation that proves I am qualified to build and drive this bus. (The cards are individually numbered so I think I'm only the 209th person to get it as well.)
So in future, if you want to build some Lego, that's fine, but you won't be getting anywhere near this one unless you're the holder of a driving licence like I am.