Awful CDs continue to land on my doormat with depressing regularity. Currently queued up for your Four Word Review enjoyment are "Voice of the Violin" by Joshua Bell, a collection of Motown covers produced by Pete Waterman, and the 1997 self-titled album by Kavana.
Lined up for this month's review was "Sticks + Stones" by Cher Lloyd, a 2011 slice of Simon Cowell pop. But when I put the CD in and pressed play, something was wrong.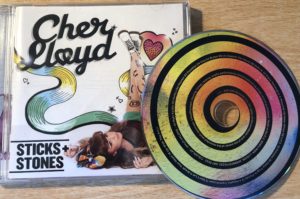 Can you see it? Yes, that's right. The case says "Sticks + Stones" by Cher Lloyd, but the CD itself is actually another album from the same year, Coldplay's "Mylo Xyloto".
Obviously at that point I had to call a halt to the whole business. This is too much. Two albums I don't want to hear in one.
Now I don't know what to do. I might just have to listen to Kavana instead.
That might be the bleakest sentence I've ever written. If the best available course of action is listening to a whole album by Kavana, you know you've hit rock bottom.