Plan A for this month's Four Word Review was Cher Lloyd, obviously. But there is no Cher Lloyd on the CD in that box. So, with some reluctance, I have had to change my plan. I couldn't face Kavana. Not yet. So where else is there to turn? What might soothe my frayed nerves and calm me after this disconcerting change of plan? I turn back to the pile of dreadful CDs, once again growing at an alarming rate. I pass on Pete Waterman's Motown collection. Ah yes, here we go. This guy. This guy will do nicely.
Joshua Bell's Voice of the Violin is an album of classical and operatic music, originally written with vocal parts, where the vocal has been replaced with a violin. The violin is then played by Joshua Bell. This is not just an album I wouldn't normally listen to – all Four Word Reviews are albums I wouldn't normally listen to. It's more than that: it's a whole type of music I wouldn't normally listen to and for which I don't really have a frame of reference. And in the absence of any lyrics, it's also laying bare my lack of musical knowledge. I have no way to analyse or describe this. Music without words is music I am unable to describe in any meaningful way.
It's going to be a slow ride. Here we go.
| Track | Word 1 | Word 2 | Word 3 | Word 4 |
| --- | --- | --- | --- | --- |
| 1. Vocalise (Sergei Rachmaninoff) | Wafty | floaty | melancholy | melody |
| 2. Ave Maria (Franz Schubert) | Father | Ted | hold | music |
| 3. Pourquoi Me Réveiller? (Jules Massenet) | Sadness, | sternness, | solemnity. | Sparse |
| 4. Après un Rêve (Gabriel Fauré) | High | pitched | dreamy | stuff |
| 5. Song to the Moon (Antonín Dvorák) | Unexpected | twinkly | harp | bits |
| 6. Laudate Dominum (Wolfgang Amadeus Mozart) | Quite | nice | I | suppose |
| 7. None But the Lonely Heart (Peter Tchaikovsky) | Unrecognisable | Yes | cover | version |
| 8. Una Furtiva Lagrima (Gaetano Donizetti) | It's | some | more | violin |
| 9. In Trutina (Carl Orff) | Basically | "Ave | Maria" | again |
| 10. May Breezes (Felix Mendelssohn) | Almost | cheerful, | still | sad |
| 11. Beau Soir (Claude Debussy) | This | one's | very | quiet |
| 12. Estrellita (Manuel Ponce) | Yeah, | I | mean… | fine |
| 13. Nana (Manuel de Falla) | Twiddliest | one | so | far |
| 14. Je Crois Entendre Encore (Georges Bizet) | Very | quiet, | missed | it |
| 15. Morgen! (Richard Strauss) | Suddenly | a | singer | too |
I don't know what to tell you about this. Someone sent me a CD full of violin-filled classical music. It was quite nice? It was fairly relaxing? I couldn't really tell the tracks apart much? I have nothing to tell you.
Since there's no words for me to talk about, I'm going to show you pictures instead. You can see the album cover above, all soft-focus like a love letter to his violin. But you've seen nothing until you've also seen the back, where he's on the brink of smooching it.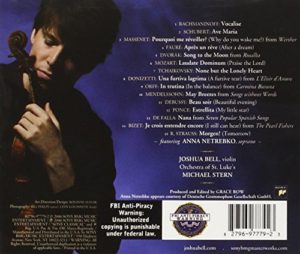 Mmm, look at that tender embrace. Look at his face, eyes closed in silent and loving communion with his instrument. Look at the way his hand cradles its neck. Oh wow. He's enjoying a Furtiva Lagrima of his very own here.
I suppose my favourite thing about this album was that it didn't distract me from getting on with some other stuff while it was playing. Actually, no, my favourite thing is that track 12 was composed by someone called Manuel Ponce. My least favourite thing is that it went on absolutely forever and in return for all that time I spent I can't think of anything interesting to say about it. I should have gone for Kavana.