Welcome to the first instalment of what might become a regular music feature. In Your New Favourite Band we take a look at the people behind one of the latest beat combos in the pop charts. This week, please welcome Broken Bells.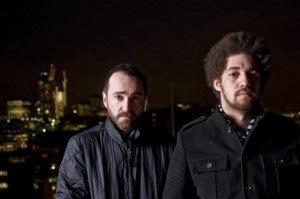 Brooklyn-based pop combo Broken Bells come from Brooklyn in America. On the left is Thatch Heidelberg (left), who plays moody guitar and taps his foot on one of those mad pedal things that records bits of what you're doing and then plays them back to make loops, you know, KT Tunstall used to use one when she played live, I wonder what happened to her. Heidelberg wears his anorak zipped up to the top because he feels the cold quite easily.
On the right is Winston Forthwright (right), a stage name for a man some will know by his real name (Winston Forthrite) who enjoyed limited success with a country and western EP back in 2008 titled Oh My Long Lost Darling's Shoes. Forthwright provides lead vocals for Broken Bells, his soulful high-pitched voice almost inaudible at times except to dogs, and accompanies songs with his giant five-foot tambourine and sometimes the kazoo. He generates a much greater amount of body heat and prefers to wear his coat unbuttoned at the top.
The power behind the throne is the unspoken third member, legendary producer and DJ Nizzle who is responsible for crafting the chart-friendly pop beat sounds of Broken Bells and whose slick production and ear for a top pop number have seen them play some of the biggest stages in Brooklyn, America, where they are from. Nizzle is notoriously reclusive except when playing sold-out Brooklyn club nights and producing seven or eight albums a year, sometimes under his own name and sometimes in collaborations with other artists in outfits like Gnarled Banksy and Thunderkecks.
Broken Bells is his latest exploration of the limits of pop beat combos and, with Forthwright and Heidelberg, he looks set to triumph again.