On the eve of the US presidential election, some might say that attempting to put yourself forward as a candidate now would be a foolish exercise.
Such tomfoolery, however, has never been too far outside the realms of the Beans though. One who is strong of heart and stout of mind can achieve great things even with very little time to do so. It is with this in mind then that my fellow flatmate, Flat Kitty, would like to offer herself for this very prestigious of positions.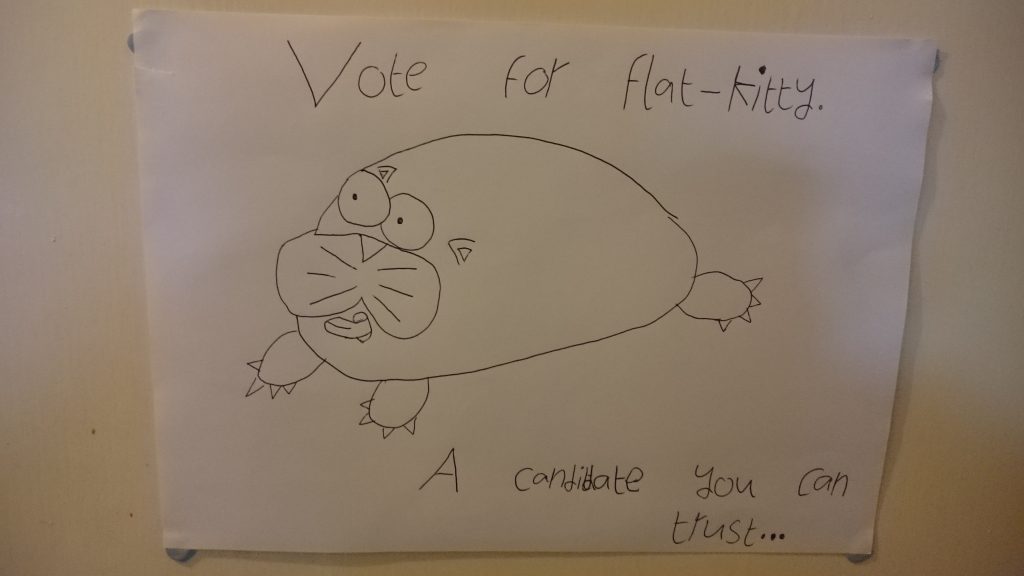 Why would she be the right person or squashed fabric soft toy for the job? What qualities does she possess that make her better than Clinton or Trump? I'm glad you asked because I have the bullet points directly below to answer those questions:
She has an honest face;
She is an ex-celebrity following the success of her Bosnian Herzegovinian smash hit of a television series with millions of fans;
Though she may not have an actual voice, she has a "voice" that can empower the smallest of people and inspire the brightest of voters;
There is nothing that she is not willing to do to get your vote;
She once popped a wheelie at the Royal Variety Performance (sources still waiting to be confirmed at this point).
As you can see, there is enough scrabbled together here to convince even the most sternest of individuals that Flat Kitty is a candidate that you can trust and is, ultimately, whom America is crying out for to lead them to a three dimensional multi-faceted glowing shoebox of tomorrow.
That and she makes a mean salad nicoise.