Sometimes I wonder what it's like to just read these reviews, never having heard the music I'm reviewing. Sometimes I wonder if a casual reader would believe that I actually do listen to the whole album in its entirety before writing one. But I do, and that is why I have very mixed feelings when another CD-shaped package mysteriously arrives in my postbox. Sometimes the contents of that package are familiar to me and maybe even borderline palatable, like when Sade emerged from her Jiffy bag. Other times I find myself facing up to an album like Double Wide by Uncle Kracker.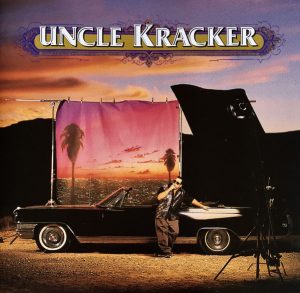 I hadn't heard of Uncle Kracker before I got this CD, and in many ways I think I was happier back then. It turns out he was the "turntablist" for Kid Rock, who in turn I could really only describe as someone whose name I remember hearing. Eventually Uncle K decided it was time to break off the shackles of turntabling (is that a verb?) and make his own album, co-written and produced by Kid Rock himself. Wikipedia says it's a mix of country, rock rap and rockabilly, with elements of hip hop, rock and roll, blues rock and pop. I don't know about that. Most of it sounded to me like overworked electric guitar with a mix of repetitive rapping and tuneless singing over the top. The vocals on most songs are basically a single note being battered to death over the sound of random guitar twiddling.
Uncle Kracker himself has since turned into a country artist, though hasn't managed to scale the charts with his country music in quite the way he did with Double Wide. I'm not sure what the magic formula was here. It's very repetitive. It all sounds like the songs I'd turn off when I listened to Radio 1 in the early 2000s. Generally speaking, after the first 30 seconds of a song you've heard every sound and every note it's going to contain and the rest gets old very quickly. The only exception is "Intro" (beware of any album that starts with a track called "Intro") which has Kid Rock and Uncle Kracker having a chat in what sounds like a bus station. Kid Rock is telling Uncle Kracker that he's taught him all he can, and now it's time for him to go out into the world himself. "But what if?" says Kracker, deeply unconvincingly. Kid Rock knows just what to say. "Fuck what and tell if to suck my dick" he replies. And there, the tone for the album is set.
| Track | Title | Word 1 | Word 2 | Word 3 | Word 4 |
| --- | --- | --- | --- | --- | --- |
| 1 | Intro | Uncle | Kracker | can't | act |
| 2 | Better Days | Neither | singing | nor | rapping |
| 3 | What 'Chu Lookin' At? | Lengthy | without | distinguishing | features |
| 4 | Follow Me | Weird | romantic | CV | list |
| 5 | Heaven (feat. Kid Rock & Paradime) | Sudden | aggressive | guest | rapper |
| 6 | Steaks 'N Shrimp | He's | shouting | about | steak |
| 7 | Who's Your Uncle? | Apparently | he | can't | drive |
| 8 | Whiskey & Water | Wikiwiki | wild | wild | west |
| 9 | Yeah, Yeah, Yeah | Regrettably | low | in | quality |
| 10 | Aces & 8's | Strongly | resembles | "Quick | Go" |
| 11 | You Can't Take Me | Mercifully | forgettable, | suddenly | ends |
In general this is eleven tracks of self-inflating bobbins, with all the swagger of gangsta rap but none of the identifiable musical style. I'm not sure it really knows what it is. Kracker himself appears on the album sleeve in plasticky looking trousers and one of those patterned shirts that has black sleeves, so he looks like the sort of guy who chews a toothpick all the time and fancies himself as deeply desirable because he hangs about in a bar playing pool and drinking whiskey with water in (oh look, it's track 8) when actually he's pretty directionless.
His lyrics don't seem to have any real direction either. The chorus to track 9 goes "I don't know why I come here but I know I'll never leave / it's the only place I want to be", to which I found myself thinking that if it's the only place he wants to be then that would explain why he goes there, but it doesn't explain why he has to come there at all if he'll never leave. Evidently he is leaving, even though it's the only place he wants to be, and so he has to come back on a regular basis. Maybe the song is about a place he can't actually stay permanently, like a dry cleaners' shop or one of those automated public toilets that flushes itself out when you close the door.
In summary, my favourite thing about this album was the end of track 6, where he suddenly shouts "bitch!" over the last note of the song. I didn't know people ever really did that. My least favourite thing was the chorus line to "Heaven" that says "if heaven ain't a lot like Detroit I don't want to go". That's a grim vision of heaven by anyone's standards.