I don't know how to tell you this. It's too tragic for words.
In some ways we saw it coming, but still, when I walked down Church Road and saw what had happened, I couldn't believe my eyes. Sexatronic has gone.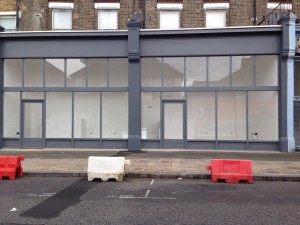 Once the home of Bum Chin Bollock Neck McGee, and then – gloriously immortalising the star of one of The Papples' most inventive album tracks – home to Sexatronic herself, the stylish and cosmopolitan plywood sheeting has been removed after five years' service and has been replaced with these unimaginative shop units.
We'll never forget you, Sexatronic.