April is truly the most Christmassy month. There are several reasons for that. The first is that it just is. I mean, Christmas happens in December, obviously, but that really just makes the idea of December being the most Christmassy month a bit bourgeois and low-brow. No, April's right on the fashions. The second reason is the weather – all that blazing hot sunshine that's turned up in the last few days can't help but make you feel festive. And the third reason is that it was in April last year that we listened to Mahalia's Christmas album. (You did listen to it, didn't you?)
Needless to say, then, this April we're spinning another yuletide disc. This one is A Christmas Album, recorded in 1967 by Barbra Streisand.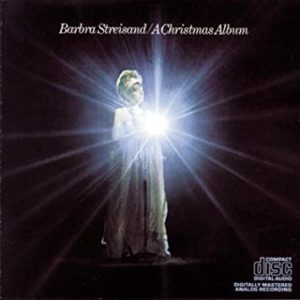 If you remember Mahalia's festive effort, you'll recall that she threw a few of her own lyrics into the songs. Barbra could show her a thing or two on that front. Half these songs have whole new verses in them, some of which change the actual meaning of the songs. She's unable to resist molesting White Christmas, for example, which now has a whole new verse at the start that's about palm trees in Beverly Hills. Jingle Bells also has a lot of additional stuff in it.
Most of this – barring the first track, which we'll come back to – sounds like music from a Disney film score, and is nice enough, though Barbra Streisand can't resist doing a bit of vocal wobbling around all the big notes in a sort of pre-Mariah Carey fashion. The result isn't my sort of thing, but it's at least fairly Christmassy.
Let's see the shape of this thing.
| Track | Word 1 | Word 2 | Word 3 | Word 4 |
| --- | --- | --- | --- | --- |
| 1. Jingle Bells? | Mary | Poppins | meets | Scatman |
| 2. Have Yourself a Merry Little Christmas | Precisely | what | you | expect |
| 3. The Christmas Song | Taking | liberties | with | melody |
| 4. White Christmas | Bing | hits | Beverly | Hills |
| 5. My Favorite Things | What's | this | doing | here? |
| 6. The Best Gift | Think | it's | about | babies |
| 7. Sleep in Heavenly Peace | It's | just | Silent | Night |
| 8. Gounod's Ave Maria | Floaty | choral | Mahalia | mush |
| 9. O Little Town of Bethlehem | Ongoing | slow | hymnal | bobbins |
| 10. I Wonder as I Wander | Wonder | what | the | fuck |
| 11. The Lord's Prayer | Prayer | as | Bond | theme |
Not all of these are actually Christmas songs, and I don't know if Barbra got away with that when she was up against the average music listener of the late 60s, but I saw straight through it. My Favourite Things is from the Sound of Music, for example, and The Best Gift is, to the extent it's about anything at all, not about Christmas. I was unable to pinpoint what that song actually was about, though one lyric from the chorus may be a pointer: Streisand sings that "the best gift I'd ever get was sometimes dry and sometimes wet".
All of this falls into the same familiar Barbra Streisand movie score/soaring vocal camp, with the noticeable exception of Jingle Bells, which mounts a sudden and violent assault as soon as you press play. The tempo has been increased to a point that's almost ridiculous – "jinglebells jinglebells jinglebells jinglebells" over and over again like some sort of Olympic-level attempt at a tongue twister – until one of Barbra's new verses arrives, which suddenly and unexpectedly are sung incredibly slowly and softly and with unexpected "boing" cartoon sound effects. I had, literally, no idea what to make of it, but the tameness of the rest of the album was actually unexpected after all that.
In summary, then, my favourite thing about this album is the question mark that has bee inexplicably added to the title of Jingle Bells?. My least favourite thing is that I feel like I've just sat through the soundtrack to Bedknobs and Broomsticks.