Last time we met here in the Album Review Auditorium, I had just suffered the ordeal of To The Extreme by Vanilla Ice. This time I have been listening to Dead Letters, the 2003 album by the Finnish sort-of rock band The Rasmus, and I'm a bit concerned that this review is not going to be like the other Four Word Reviews for two reasons. The first is that this album is not quite in the same league of shameful horror as most of the albums that have landed on my doormat over the last year. The second is that, having listened to Vanilla Ice in the recent past, nothing I hear for a long time will seem particularly bad. I think that's why I'm not particularly down on this album. I thought it was sort of OK.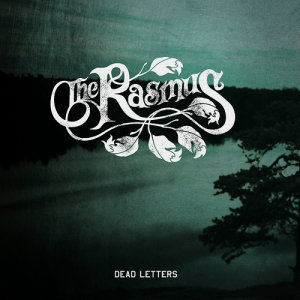 I mean, let's not go crazy here. I wouldn't choose to listen to it again and I'm certainly not going to be singing along to it in the car. But with the likes of Vanilla Ice and Clock, I would seriously consider never listening to any music ever again if I thought it was the only way to avoid a second listen to those albums. This album is just a bit of a shrug by comparison.
Here's what I didn't know until I listened to the whole of this. I didn't know The Rasmus are Finnish and I didn't know they were still touring now. (I Googled them.) I didn't realise – perhaps because, when I was used to hearing them on the radio back in 2004, I didn't really know much about this kind of music – that their style is basically a sort of Europop version of emo. I didn't know that I would remember their second single, Guilty, when I heard it. (I didn't honestly remember they had a second single.)
Mostly this is power-pop emo with blasting guitars and tortured, needy lyrics. Some of them play on the band's northern European origins – there's definitely a mention of the Northern Lights in there for no especially good reason. Most of them have a delightful, endearing self-pity that suggests this lot came hot on the heels of nu-metal or whatever Lincoln Biscuit called themselves. There's not a great deal to tell most of the songs apart.
I was lucky enough to be sent the extended album with three bonus tracks, so while most people only get ten songs on Dead Letters, ending in the festival of depression that is Funeral Song, I was able to enjoy a further three songs that were broadly the same as the first ten.
| Track | Title | Word 1 | Word 2 | Word 3 | Word 4 |
| --- | --- | --- | --- | --- | --- |
| 1 | First Day of My Life | Remarkably | emotional | Scandinavian | rock |
| 2 | In the Shadows | Honestly | don't | mind | this |
| 3 | Still Standing | Entering | needy | emo | territory |
| 4 | In My Life | Van | Halen | meets | Busted |
| 5 | Time to Burn | Attempts | metal. | Still | emo. |
| 6 | Guilty | Extensive | "woahs" | and | "yeahs" |
| 7 | Not Like the Other Girls | Kettle | boiling, | missed | this |
| 8 | The One I Love | Shouty | angst | and | guitars |
| 9 | Back in the Picture | It's | more | power | emo |
| 10 | Funeral Song | Dreary | slow | overworked | pap |
| 11 | F-f-f-falling | More | of | the | s-s-s-same |
| 12 | If You Ever | Harmonies | glitter | this | turd |
| 13 | What Ever | Jiggy | tortured | emo | finale |
I think in summary, I would describe this album as "not horrendous". In the Shadows is an OK pop song that I don't mind hearing every now and then if it happens to come on the radio. The rest of these songs are just songs I'm not very interested in. Like I say, my opinion may be skewed by To The Extreme and perhaps that means Vanilla Ice has ruined me as far as slagging off bad music goes. But for now I can't lie about the fact that listening to this was reasonably tolerable.
My favourite thing about this album is the quote on the inside of the sleeve that explains at some length and in oddly academic language what a dead letter is. It's in quotation marks but not attributed to anyone, so I choose to assume it's just lifted from Wikipedia. My least favourite thing is that two of the tracks on this album have the same title as much better songs by other bands. One is "In My Life", which goes without saying; the other is "If You Ever", and the fact that I would rate a collaboration by Gabrielle and East 17 more highly than this says a lot about track 12.
I think we can all look forward with baited breath to Gary Wilmot, appearing in this slot next month. I for one have never heard of him.