It's been a long time since we last dipped our toes into the chilly water of Four Word Reviews – seven months, in fact. That's largely because the mysterious supply of terrible CDs has been slowing down lately. Still, there's one here now, and that is an album that's ten years old this month: Doing it My Way by the 2006 X Factor runner-up Ray Quinn.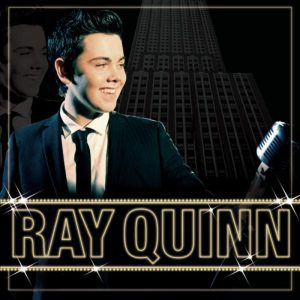 There's not much to say about this album – as we will see – for the simple reason that it's an album of swing cover versions. It contains exactly the songs you would expect and they've all been recorded and performed in exactly the same way as all the hundreds of other albums like this that have been churned out over the years. Everyone from Robbie Williams to Jason Manford has had a pop at it, and they all basically sound like this.
In this specific case, Ray Quinn was all of 19 years old when he came second (second!) in the X Factor, and he was whisked away to Los Angeles to record this album at Capitol Records Tower, in the very studio where Frank Sinatra belted out some of these songs in a more genuine way many years before. I read that on Wikipedia and it might be the single most depressing thing about the whole album. Wait, no, this is: it was a gold-selling album in 2007 and Ray Quinn became the first artist to score a number 1 album without ever releasing a single.
| Track | Title | Word 1 | Word 2 | Word 3 | Word 4 |
| --- | --- | --- | --- | --- | --- |
| 1 | Ain't That a Kick in the Head | Literally | no | opinions | here |
| 2 | Fly Me to the Moon | Weirdly | flutey | and | arhythmic |
| 3 | My Way | Limper | than | Frank's | Way |
| 4 | That's Life | Violently | offensive | Hammond | organ |
| 5 | Mack the Knife | Robbie | sang | it | better |
| 6 | Smile | Tuned | this | one | out |
| 7 | The Way You Look Tonight | Urgh. | Creepy | crooning | crescendo |
| 8 | Summer Wind | Generic | swing | sung | generically |
| 9 | What a Wonderful World | Is | this | even | "swing"? |
| 10 | Mr. Bojangles | OK | song | made | tedious |
| 11 | New York, New York | No | York | No | York |
It's quite hard to have an opinion about this album because it's all songs you've heard a hundred times before sung in exactly the way you've heard them sung a hundred times before. It offers nothing new. You have to listen pretty hard to work out it's this generic singing guy and not one of the thousands of other blokes with halfway decent voices who have chosen to tread this heavily congested road. It lacks any sincerity. A 19 year old can't really sing "My Way" and hope to make you think they mean it, not that this particular 19 year old sounds much like he's trying. Some of the more upbeat and jazzy numbers have been made quieter and less jazzy for some reason. It's a big, brass-heavy sigh of a record.
In summary, my favourite thing about this album was that I could sometimes forget it was this X Factor guy singing it and let it wash over me like it was literally any other album of identical-sounding swing covers. My least favourite thing was "New York, New York" being turned into a sort of stodgy, plodding recital. Even I give that song more welly if I sing along to it.