In the 90s, there were a lot of boybands. You might remember *NSYNC, who were one of the big American ones. They did some catchy songs like Bye Bye Bye and It's Gonna Be Me and they won eight Grammy awards for their trouble. Then they split up, and their lead singer, Justin Timberlake, went on to have a hugely successful solo career. What you might not remember is that *NSYNC had another lead singer, who co-wrote a lot of the songs with Justin Timberlake, and his name is JC Chasez. He too launched a solo career after the band split up, and his 2004 debut album was called "Schizophrenic". This is it.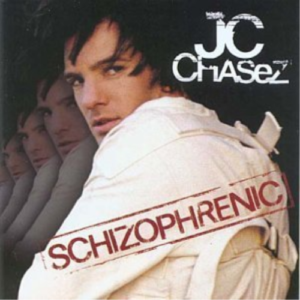 I think we have to acknowledge, right here at the start, that you couldn't call an album "Schizophrenic" today. You also couldn't have a cover photo for the album where the artist is wearing a straitjacket while looking seductively at the camera. But then there is quite a lot about this album that wouldn't fly today; it very much belongs to a pre-Me2 world where releasing almost aggressively sexual songs called "One Night Stand" and "All Day Long I Dream About Sex" was still something you could do without being cancelled.
We also need to take a moment to note that this album fits perfectly into a distressing pattern. For some reason, the mysterious albums that plop through my letterbox every now and then for Four Word Reviews are all really long. Like, really long. Why I can't have an occasional one that has eight tracks and runs to about half an hour, I don't know, but this one is aiming for some kind of record: it has seventeen tracks – count them, seven fucking teen – and runs to a full hour and sixteen minutes. Some of these songs are more than six minutes long. Most of them also fade out so slowly that you can skip the last fifteen seconds because they're already mostly gone by then. It's like torture.
OK. In a moment we'll take a deeper dive into the music and the lyrics, but first let's shake this thing and see what falls out.
| Track | Word 1 | Word 2 | Word 3 | Word 4 |
| --- | --- | --- | --- | --- |
| 1. Some Girls (Dance With Women) | Fizzy | beat, | gentle | rapping |
| 2. She Got Me | Is | this | Justin | Timberlake? |
| 3. 100 Ways | Falsetto | and | heavy | bass |
| 4. Mercy | Tuneless, | rhythmless | and | irritating |
| 5. Build My World | Harmony | heavy | pity | party |
| 6. Something Special | No | Mr | Tumble. | Sad |
| 7. If You Were My Girl | Bargain | boyband | Stevie | Wonder |
| 8. Shake It | Weird | stuttering | trumpet | sample |
| 9. All Day Long I Dream About Sex | Stompy | shouty | perv | anthem |
| 10. One Night Stand | Bouncy | confused | shagger | pleading |
| 11. Come To Me | Sounds | like | Theme | Hospital |
| 12. Dear Goodbye | Sudden | heartbroken | ballad | moment |
| 13. Everything You Want | Nineties | reggae. | Paging | Shaggy |
| 14. Lose Myself | Boyz | II | Men | B-side |
| 15. Right Here (By Your Side) | Breathy | falsetto | seduction | horror |
| 16. Blowin' Me Up (With Her Love) | Staccato | rapping, | horny | feeling |
| 17. Some Girls (Dance With Women) | The | first | song | again? |
So, it's the early 2000s and we are somewhere between late-era Michael Jackson and Nelly, with all that slightly Spanish sounding acoustic guitar and plenty of hand claps. It's gentle white RnB with a pop sheen. A lot of it just sounds like Justin Timberlake, actually, and I wonder whether his debut album coming out two years before this one has anything to do with it. But this was never going to be "Justified". It's just not that good. The Neptunes could never have salvaged it.
Musically, it's all over the show. No two tracks are quite the same style and it turns out almost all of them had different producers. On some the music is decidedly weird; 100 Ways has a bassline straight out of an Ocean Colour Scene song, Come To Me appears to sample a midi track called "Doctor Frog" from the Theme Hospital soundtrack, and One Night Stand is a bit like Bruno Mars having a go at Coco Jamboo by Mr President. I was expecting Shaggy and Rayvon to come along at any moment to shout their names all over it.
Lyrically it just gets worse. The first song is just creepy, but in amongst the generic pop ballads are some progressively more weird choices. In Something Special, he sings "I got the recip-ay, girl it's such a tasty way for you to get a taste of me, silky like a Milky Way". And then we reach track 9, All Day Long I Dream About Sex, which I think we need to talk about in some detail. The guitar and synth hook is actually quite good, but over the top of that are some very aggressive lyrics forcefully delivered. The chorus line goes "all day long I dream about sex, and all night long I think about sex, and all the time I think about sex with you". It's astonishing and, if you can believe it, it was a single.
We're then straight into One Night Stand, which is equally sex obsessed, complete with some really embarrassing sex noises performed by some poor female vocalist who I hope was paid handsomely for her trouble. It includes more weirdly pushy pleas for sex, several contradictory spoken-word dialogue sections, where the woman he's talking to is laughing at his advances, and also incongruously the "oooh, I feel love" backing vocals from that Donna Summer song. And throughout the album, JC Chasez sometimes sings "bebbay-ay" instead of "baby", and there are huge amounts of doo doos, ahh ahhs, yeah yeahs and all the other soulful noises.
This was a terrible way to spend an hour and a quarter of my life. Considering that I really don't mind a bit of Justin Timberlake – Cry Me A River is great and I like that Dance Dance Dance thing he did a few years ago – this album reacted very badly on me, which is weird because it's not all that different. But the difference isn't in the sound, it's in the subject matter, which is appalling, and the lyrics and the style, which are just not good enough to rescue some very middling music.
In summary, my favourite thing about this album was the line "she's such a sexy dame, I just can't control my thang", which made me laugh out loud. My least favourite thing is that after 16 tracks, and one hour ten minutes of this stuff, someone decided that the album still wasn't long enough and put the first track on for a second spin at the end. I didn't need that. Nobody needs that.