It was inevitable, wasn't it? I should have known. It was only a couple of months ago that I wrote about the arrival of a CD box claiming to be Cher Lloyd and finding that the disc inside was actually Coldplay. Well, whoever it is that sends me these awful CDs to review (Gary Wilmot? Ian? God himself?) evidently reads the Beans, because this week another little parcel arrived in the post. Inside it, a box for a Coldplay album, and the CD "Sticks+Stones" by Cher Lloyd. I now have a complete set. Hooray.
Before this saga unfolded, I knew nothing of Cher Lloyd, beyond the fact that she exists and I've heard her name somewhere. Here are some things you need to know to fully appreciate this album: she came fourth in the X Factor 2011 and was immediately signed up by Simon Cowell's record label, who put out this debut album later the same year when she was just 18. Her debut single, Swagger Jagger, entered the charts at number 1. She is, in other words, famous, and she's worked with all sorts of other famous people like Busta Rhymes and Beth Ditto, but she is – fundamentally – only famous among people who don't hate everything about this type of music. I am not one of those people.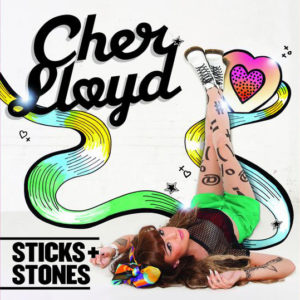 What this is, then, is a little slice of 2011 pop incorporating rap, R&B, a bit of heartfelt emotional ballad singing just to prove Cher Lloyd can sing as well as shout at high speed, and a fair bit of dubstep to make sure it was bang on the fashions. Let's see how it plays out.
| Track | Word 1 | Word 2 | Word 3 | Word 4 |
| --- | --- | --- | --- | --- |
| 1. Grow Up (feat. Busta Rhymes) | Fast | noisy | and | annoying |
| 2. Want U Back | Like | an | annoying | P!nk |
| 3. With Ur Love (feat. Mike Posner) | Annoying | dum | dum | dums |
| 4. Swagger Jagger | Incredibly | annoying | buzzing | synthesizer |
| 5. Beautiful People | X-Factor | friendly | piano | annoyance |
| 6. Playa Boi | Harrowing | "Buffalo | Stance" | cover |
| 7. Superhero | Annoying | repetition | of | "I" |
| 8. Over the Moon | Shouting | over | annoying | dubstep |
| 9. Dub on the Track (feat. Mic Righteous, Dot Rotten and Ghetts) | Attempted | annoying | "dub" | accent |
| 10. End Up Here | Emotional | Beyoncé | attempt. | Annoying |
I think it's fair to say I found this album fairly annoying from start to finish. It's very noisy and there's a lot of shouting. The bits that aren't shouting are still very loud and come at you incredibly fast. I found it a stressful listen. There's something about the production style, which I think was a trendy pop thing back then, that means the tracks all have so much synthy cymbal and crashing percussion that there's a wall of white noise washing out every track.
Lyrically it's also a bit of a mess. Track 1 sets the benchmark with the line "we're doing stuff and we don't have to tell our mums"; by track 2 we're self-censoring with the chorus line "I don't give a shhhh…", and where romance enters the frame Cher Lloyd coyly tells us "you got a hard shell but the middle so yummy". Eww.
In summary, my favourite thing about this album was realising that the melody to Swagger Jagger is a straight rip of "oh my darling Clementine", and once I realised that, I could sing lyrics I knew over the top of inane phrases like "get your game on".
My least favourite thing was Playa Boi because it was immediately and horrifyingly apparent that it's a cack-handed cover of Buffalo Stance by Neneh Cherry ("no player boy can win my love/it's sweetness that I'm thinking of/he gotta lean in a gangster stance/he need to rock all the sickest brands"). Nobody should cover Buffalo Stance, let alone add insult to injury by changing the lyrics. I was so mortified by what I was hearing that for those three minutes I forgot to even be annoyed.