Not so many years ago, Kevin Hill, Science Master, introduced the world to the Majestic Bird Goose – the biggest development in the world of ornithology since the self-boiling egg.
It is now time to introduce the next major leap forward in the world of birds. I am proud to present to you the Leggy Duck.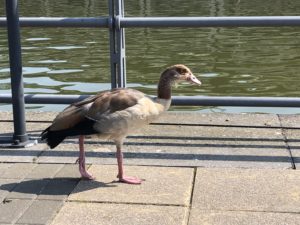 The Leggy, or "Upstairs", Duck has all the key advantages of a duck (flotation, quacking, beak etc.) but now mounted atop a much taller length of leg. Just imagine what that means!
Greater distance between duck chassis and ground
Higher vantage point, resulting in better sense of perspective when surveying territory
Leg bendiness allows duck to adjust height when lower altitudes are needed, e.g. when strafing through hostile gunfire
Waddling speed of 12mph
The all-new Leggy Duck was also developed to incorporate some of the most popular features of the Majestic Bird Goose, and is capable of some of the most contemptuous pooping-and-strutting-away of any bird on earth. Thanks to the Leggy Duck's remarkable legginess (or "leggitude" for readers in the US and Canada), users will find its pooping is particularly impressive, with a long drop and broad spread, and its strut devastatingly fast.
The new Leggy Duck: a revolution with feathers™. Order yours now.