What can you remember from 2004? Anything? Could you point your gnarled and ageing finger at anything you could decisively say you bought in 2004? Do you remember your hopes and dreams for the future back then?
I can. In 2004, I bought a comfortable blue chair from Ikea and put it in my room at my student house. It was wonderful. I spent more time in that, with my laptop, than I did sitting at my desk or in the living room downstairs. I wrote my dissertation in that chair. But my room was small, so I reluctantly said no to the matching footstool that would have elevated it from "comfortable chair" to "the best seating in the world". I told everyone I'd go back and get the footstool when I moved out, and then my life would be complete.
When I went back for it, they no longer sold the chair or the footstool in blue. And a year after that they stopped making and selling the chair altogether. But I don't give up easily, and every now and then I'd rummage around on Gumtree and search through eBay listings to find a matching blue footstool. None ever came up. The chairs did come up sometimes, but very rarely in blue. The chairs sometimes came up with a footstool, but I didn't want another chair and I never found a pair in blue anyway. The footstools on their own never came up at all.
Until, that is, Monday the 26th February 2018, when I had a look on eBay for probably the first time in a year or more, and this came up.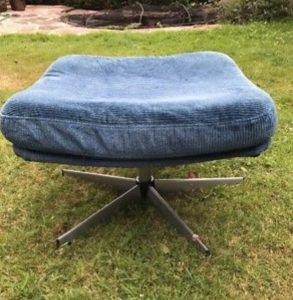 A blue footstool. On its own. Clean. Fully intact. £20. Collection only from a London suburb.
I can't tell you how excited I was. If I hadn't been sitting at my desk at work I think I would have screamed. After I had danced around the room for a little bit, I bought it.
I went to collect it – an hour and a half's drive from my flat, but irritatingly ten minutes from where I used to live – and then brought it home. The reunion of chair and footstool was moving and emotional for all present (by which I mean me).
My blue chair is fourteen years old this year. That's very nearly half my life. Fourteen years alone. Fourteen years dreaming of the matching footstool I very nearly bought with it and that I had come to believe I would never own. Fourteen years as half of a pair. And now, unbelievably, I've got what I always wanted.
I think my life is complete now. I think I have everything I need. And I've certainly learned that, if your life is missing something, you sometimes just have to be patient.