We all remember Bert Papps. What a guy he was – but we've talked about him enough.
It's high time we looked back at the life of another modern hero, one who few of us remember but whose life is charted in a thousand minor local newspaper reports of the late twentieth century. I'm talking, of course, about Dick the Brick.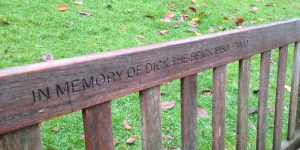 I have to admit that I had never heard of this remarkable chap until recently, but a search of the Sutton and Cheam Gazette archives tells me that on four occasions – in 1964, 1972, 1980 and 1991 – he was drafted in by the Metropolitan Police as a medium and successfully used spirit guides to help detectives prosecute people who had been dumping trolleys in the canal.
Did Dick the Brick ever turn up in your local paper? Let's unearth some more of his incredible life.