In these trying times, we're all hearing more than enough that worries, frightens or discombobulates us. To ease your worries, calm your nerves and recombobulate your addled mind, I've decided to make a regular habit of posting good news.
Here's the first hit of happy headlines. Strap in.
I was in Greggs this morning to get some breakfast, having spent the night away from home. After I placed my order, the barista (being from London I assume the people behind the counter are baristas, like in Cafe Nero) asked me "do you like gingerbread?"
That's not a difficult question. "I do", I replied.
He put a gingerbread man in a little bag and put it on the counter with my order. "Here you go," he said. "That's free."
When I asked about this gingerbread generosity, he explained that head office had – for no reason he could see – sent him about 200 extra gingerbread men and he'd never be able to sell them all. So he was just handing them out to anyone who wanted one.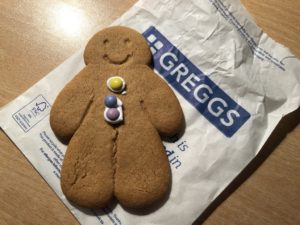 Admittedly my free gingerbread man has distressingly fat legs, and has been given icing and smarties in a particularly slapdash way, almost as though the person adding his buttons had 200 of them to do and thought they might all end up in the bin, but all in all this is an absolute win. Hurrah!