Where do your allegiances lie? Are you loyal to the Royals? Are you allied to the River Clyde? Are you dutiful to anything beautiful?
Until recently this was a question I just couldn't answer. I didn't know whose side I was on. But then someone handed me a little card and my life changed.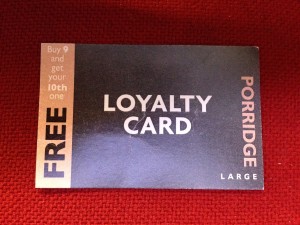 Yes! Now I have a Porridge Loyalty Card, I am officially loyal to porridge, and I have the documentation to prove it. Nobody can doubt my porridge credentials.
What are you loyal to? Are you a porridge compatriot? I must know.