I would like to call this version 3.0 but I don't believe I can. It is more of a downgrade than anything else, a version 1.5 or 1.7 and a little bit more. The face you once knew has changed so dramatically that you may not even recognise it anymore and certainly not in the way I was planning it. This great year of 2020 was going to be the year that my face soared into the stratosphere. I had so many plans lined up and this Bovona Virus has sent all of them crash-landing into Mike's Carpets. It's gone proper Lesley Pipes, no no, worse, it's gone Chesney Wipes. Look at what has happened: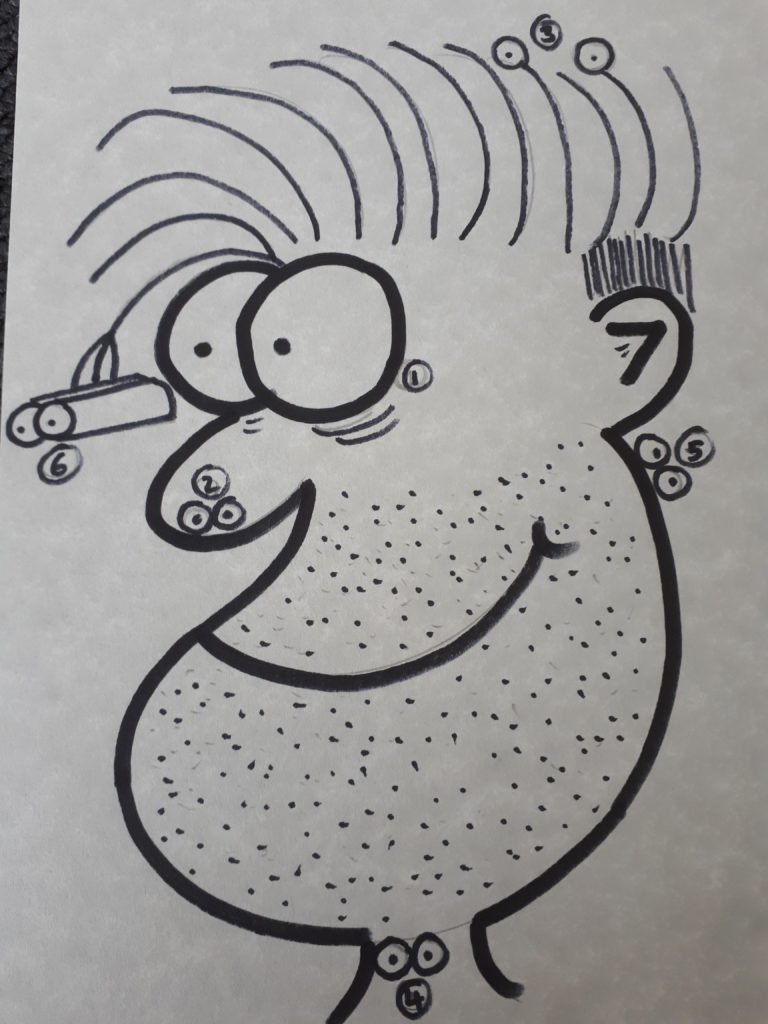 Original Eyes – they're still there, still the best. In fact the last opticians appointment I went to they had gotten slightly better. I reckon that all the new eyes have prompted them to up their game because they didn't want to be left behind. Good on you, original eyes!
Looking Eyes – the viewing eyes had to be removed and replaced with last years's looking peepers. I couldn't go an unknown amount of time without looking at things.
Peering Eyes – sticking strong at three, a non-mover by all accounts. I peered outside today and saw a lovely sky. Worth every penny.
Seeing Eyes – another one locked in. I believe that based on previous comments the "chin boobs" are a favourite amongst my admirers and I did my damnedest to ensure they remained.
Perception Eyes – it was a difficult choice between holding onto these instead of my others. Their tactically favourable position around the back of my head gave them a distinct advantage and in the end the decision to keep them was a wise one.
Spotting Eyes – these were moved from their previous position, above the ear, into a more fancy, bobbing effort round the front. I expected that any spotting would need to be done at a moment's notice so there is a little switch next to my right ear which launches the Spotting Eyes when I need to do some spotting. They hide underneath my fringe (now quite long and droopy) until they are required. It was the last project my team did before most of them were disbanded.
During these financial hardships we are all going through, I had to remove and sell my glimpsing, viewing, noticing, mysterious, triple and poker eyes. They're all gone; sent through the realms of the black market to those who probably do not deserve them. My crack team have also been significantly reduced to just one lady scientist and a robot with a limp. They're the best at what they do and I know they will keep plugging away although when I will be able to afford new eyes again is anyone's guess.
Such a sad state of affairs. My face has never felt so open, so vulnerable, so naked. What happens when I need to notice something in the distance? What do I do when I need to glimpse ahead to see how busy the petrol station is or how long the line into the supermarket is? I don't have the answers and I don't expect anyone else to have them either. To give into despair about one's lack of ojos though is to give in to life itself. No, I will not allow myself to dwell on this. I still have six perfectly good pairs of eyes at my disposal and I will carry on, friends.
Look, peer, perceive, spot and see me and I hope you are all inspired.