I said I'd bring you good news in these dark times and I jolly well will. The "jolly good" series continues with a tale of more free food.
It wasn't a good easter for supermarkets and other food retailers. Near where I work, the food hall of a big department store remained open throughout the present mess, because it sold essential groceries, but as it wasn't being visited by tourists and families any more, and as its customers were mainly just trying to buy food to help them survive, they didn't sell all the chocolate they'd ordered in.
Now, if you go there, they are literally giving away chocolate at the exit, in an effort to shift it before it goes off.
Today, one of my colleagues headed out from work, explained that my department are all still working in central London, and that we'd be happy to help out with their problem. The food hall's delighted manager couldn't load him up with free chocolates fast enough.
We now have this.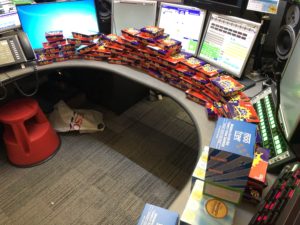 The "this" in question is, at a rough estimate, more than 500 Cadbury's Creme Eggs, plus a random assortment of whatever other Easter eggs and other things were lying around the storeroom.
I have eaten several Creme Eggs today, and I feel a bit sick. But in a good way.