In the second installment of Crazy Religos, I've decided to bring you the wonderfully insightful pamphlet, "Who Really Rules the World?" from the Jehovah's Witnesses. If you didn't think they were a bit odd for spending time going and bothering folks on their doorstep to talk about their imaginary friends then maybe you'll be fine with the conculsions in here, but for the rest of us…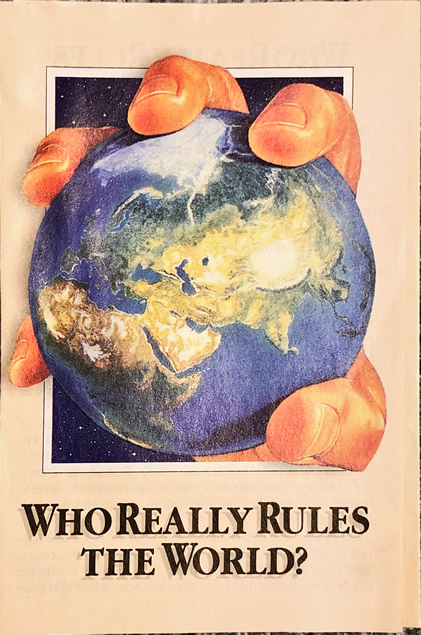 So… who did you think was in charge? The governments? The illuminati? The Women's Institute? Apparently most of us think its God, despite the complete lack of evidence for his existence, and the fact that it isn't.
Like the Jesus Disco leaflet, this one goes to great lengths to let us know that in fact it's "The one called Devil and Satan". Their proof for this (unsurprisingly) comes from the bible, but even by bible standards this one is a bit of a stretch. Their proof is that the Devil offered Jesus "all the kingdoms of the world", to which Jesus said "Go away".

I don't know about you but I've had all sorts of cranks offer me things that don't exist, and my response is generally something along the lines of "go away". Yet to the JW's this is proof enough that the Devil is in charge. If we apply that logic to the "Goop Expert" Kelly Brogan (Goop being the dangerous pseudoscience scam fronted by Gwyneth Paltrow) who said recently that the Coronavirus likely doesn't exist because contagion "is not a conceptual framework that I operate within". She's an 'expert'/crank so should we now have to believe that the virus doesn't exist?
I'm ranting, I know.
Luckily (!) its all going to be ok because, despite old devil-chops having been in charge for the last 2000-odd years, "The time is now near when Satan and his Cohorts will be no more!". "The world [and its demon rulers] is passing away", claims some text allegedly written 2000 years ago.
So… errm… It's all ok, the devil wont be in charge for much longer… because the world is ending…. 2000 years ago.
There seems to be a hole in the logic.