Everyone – and I mean everyone – has been waiting for this moment impatiently and, in some cases, violently. I am pleased to now be able to bring the impatience and the violence to an end, with the release of the answers to last month's Pouring Beans crossword.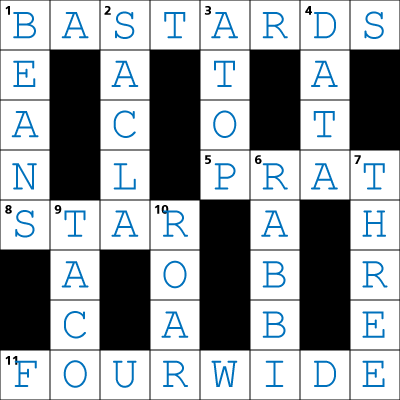 Back in early March, I stated very clearly that there were "no prizes", but then shortly afterwards in the comments I appear to have also promised everyone prizes, so I suppose we'd better go ahead and analyse the entries that have been submitted.
Kev made a very good attempt in which he got all the answers right. His handwriting (or "handers writers") was a bit messy but it would be churlish to deny him a prize on that basis, so a prize it is for him.
Ian made what I can only describe as an avant garde attempt at the crossword, getting only five of the twelve clues right, but redeeming himself with clear typography and also a very enjoyable drawing of a stickman with a ladder. On that basis I think he also has to get a prize.
So, with all the formalities out of the way, it just remains for me to offer my congratulations to the winners, whose prizes are now on the way, and to thank you all for taking part. Thank you. No, no, thank YOU.