What do dogs know that we don't?
Spend any time with a dog, as I sometimes am privileged to do, and it's immediately clear that there is some deeper mystery behind their eyes. There's something else going on that you just can't quite name.
Kev used to say the same, I'm sure: after a long day grooming one poodle after another, looking into those glassy eyes at the ever-present enigma of the dog conspiracy would wear him down, piece by piece, paw manicure by paw manicure, and he'd return home a shadow of himself to drink himself to sleep.
I think I've found a clue. A few days ago I met Digby while I was heading to the shops. Digby is a small dog. Digby was friendly enough, and he was also wearing a striking fluorescent waistcoat that said "follow me for English Wine".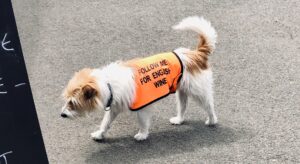 I feel like Digby's indiscreet attire might give us all a clue about what exactly dogs are up to.
Are they operating vineyards? Do they press grapes when nobody is looking? Are they all perhaps members of elite wine clubs, secretly laughing at the unbelievable tastelessness of their owners who they see pairing a Beaujolais with fish? Or perhaps they are ruthless sales hounds, hustling for money here and there, tirelessly shifting units to make a secret doggy living?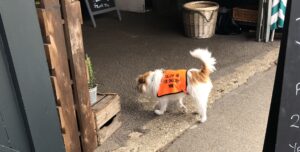 Digby went in to a sort of shed, and I didn't want any English Wine, so I didn't follow him. I suppose that means we'll never know.