I had two ideas for another post this month albeit they both stemmed from the same prospect of enraging Kevin and there is no way that I am going to post them within a few days of each other. I do like to space these things out so that Kevin's wrath does not come down on my like a ton of spiky, explosive bricks. Also, you may as well milk this for all it's worth because everyone loves winding Kev up as much as I do. With this in mind, let me present you with a little review of the Gameboy Colour game 'Hamtaro: Ham-Hams Unite!"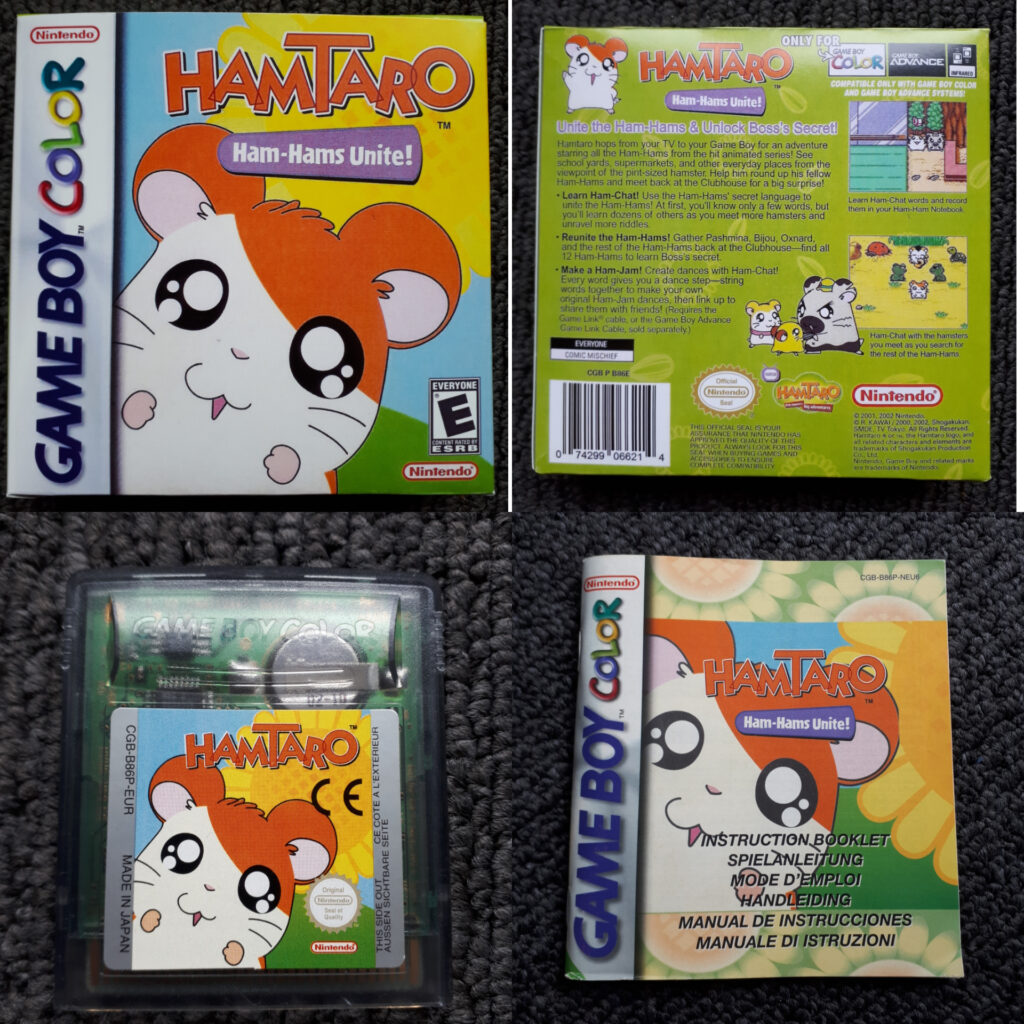 Hamtaro is a hugely popular Japanese series of anime, manga and video games. It follows the adventures of a group of SD (super-deformed and very cutesy) hamsters and it's utterly insane. I want to pretend that this is completely normal but it's not. I have played through the entire game and I am convinced it was designed by the deranged. Even I, with my bat shit crazy view of the world, found myself exclaiming out loud, not in my head, actual audible sounds, of "Eh?" and "You what?" whilst playing it. It is everything that I was hoping for and an extra box of chocolate carpets to boot.
In it you play the titular Hamtaro, a lovable hamster with a heart as huge as his eyes. The boss of your hamster clubhouse has tasked you with locating all the other twelve hamsters and bringing them back for a special surprise. As a small rodent, the human world is big and full of items that would appear normal to you and me. How are you to convince your peers to abandon whatever they're doing and head back to he clubhouse? You do this using Ham-Chat. Ham-Chat is the secret language of the Ham-Hams whereby instead of using sensible words to describe and communicate they use slight variations or muddied portmanteaus of colloquialisms. It does seem rather odd that this fully-grown hamster does not understand basic words for 'happy', 'tired' and 'hungry'; how has he been getting by all this time? Has he been writing down words on a pad and showing them to friends and family? Where did he buy this pad of paper, from a tiny WH Smiths? Who designed and built a WH Smiths so small only small animals can get in? There are so many questions.
So you get given a few to begin with and set off into the world to learn more words. The more words you learn the more puzzles you can solve. When I say "puzzles" what I mean is… what do I mean? You meet other Ham-Hams and they tell you things such as stories or other Ham-Chat words. You pass these on to other Ham-Hams to help them with whatever problem they're dealing with. Occasionally you won't be able to proceed in the area you're in until you find the right word and backtrack to that point. Occasionally you'll go through every word you have until you do the right thing. Occasionally you'll have to play a mini-game where you position Hamtaro in the right place so he can head a strawberry like a football. Fruit sports.
The game is relatively open so you can wander around until you find the right thing for the right place. It's a series of fetch quests hidden behind a brightly-coloured world of absurdity. There are eighty-five words to find in total. As this is a kid's game, you are also given the choice of purchasing clothes and items for Hamtaro from specialist shops hidden in the game. Fancy yourself a bit of a dance guru? The words from the back of the box say it all:
"You can create dances with Ham-Chat. Every word gives you a dance step – string words together to make your own original Ham-Jam dances then link up and share with your friends."
I didn't get this. I mean I understand hamsters dancing but I didn't see the point of it meaning I ignored this aspect of the game completely and went back to picking up acorns and rocks.
Though I am a little ashamed to admit it, I am still to complete my Ham-Ham Notebook having only found seventy-six of the eighty-five words in total. I appear to have hit a bit of a block where it seems as if I need to do the tiniest of little things before carrying on with the rest of the game and my poor eyes, all sets of them, don't have the energy to go scouring through the same levels again and again trying to find whatever it is I need to do.
That said, it is a very engaging and silly game, and I enjoyed the majority of it. I first learned of it at the turn of the century and it took me until this year to play it. Twenty years of anticipation. Twenty years of sometimes looking for it on Ebay and then getting distracted by a box of hammers. As it is quite rare I could only find the game and instruction booklet so I bought a reproduction box from Etsy to house it in. Now it looks all complete and shiny the way it should. Look at it, Kev, bask in how great it looks. That repro box was well worth the money. I only wish everyone could experience the comic mischief of 'Hamtaro: Ham-Hams Unite!" although the chances of an HD remake or remaster are practically slim to none.
It's a good job then that there are three (count 'em!) three other Hamtaro games on the Gameboy Colour for me to source and play. Life is good.