Ah! Celine Dion. Sometimes the random albums that arrive on my doorstep are a bit of a mystery, but we all know Celine Dion. One of the most popular artists the world has ever known, shifting more than 200 million albums worldwide, she isn't just one of the biggest selling English acts of all time (although, yes, she is), but she achieved that having only learned to speak English around the age of 20, four or five years before The Colour of My Love was released, and continued releasing French-language albums in between her English releases. She also speaks and performs songs in Spanish, Italian, German, Latin, Japanese, and Mandarin Chinese. (Thanks, Wikipedia.)
What we have here is her second English language album, released in 1993, and the source of several of her biggest hits, The Colour of My Love.
Given all of the many achievements that Celine has racked up over the years, it feels a bit silly to just have a go at an album that is demonstrably better liked than anything I will ever produce. The fans of this album could, if sufficiently riled, outnumber the Chinese army. So I will not rile them. Added to that is the observation that I have heard several times over the years about just what a kind person Celine Dion is. She does an awful lot for her fans. She's a good 'un. What a comedy dead end that is.
This is why I find myself falling back on Mark Kermode's remark that all critics' reviews can ultimately be summarised the same way, which is: "it's alright if you like that kind of thing".
So here we are. The Colour of My Love. Objectively a massively popular and well loved album by a massively popular and well loved artist. I didn't like it, because it's not for me. I hope this is the only time I have to sit through it. But it's, you know, alright if you like that kind of thing.
| Track | Word 1 | Word 2 | Word 3 | Word 4 |
| --- | --- | --- | --- | --- |
| 1. The Power of Love | 10pm | on | Mellow | Magic |
| 2. Misled | More | attitude | than | expected |
| 3. Think Twice | You | know | this | one |
| 4. Only One Road | Dreadful | twinkly | keyboard | preset |
| 5. Everybody's Talkin' My Baby Down | Celine | briefly | joins | Eternal |
| 6. Next Plane Out | Ballad | outmaneouvred | by | drums |
| 7. Real Emotion | "Real" | rhymes | with | "feel" |
| 8. When I Fall in Love | Slowest | twinkliest | of | duets |
| 9. Love Doesn't Ask Why | It's | another | slow | ballad |
| 10. Refuse to Dance | Wild | guitarist | in | distance |
| 11. I Remember L.A. | I | forget | this | one |
| 12. No Living Without Loving You | Even | quieter | sadder | ballad |
| 13. Lovin' Proof | Sassy | synth | trumpet | tragedy |
| 14. Just Walk Away | Melancholy | "I | Will | Survive" |
| 15. The Colour of My Love | Long | slow | wedding | vows |
What's it like to listen to? Come on. You know what it's like to listen to. You've heard "The Power of Love". You've heard "Think Twice". You've also heard "Misled" and "When I Fall in Love" (from "Sleepless in Seattle") and you've even heard "Only One Road", though you've probably forgotten them. I had, until I listened to this and realised that about a third of this album topped the charts as a series of singles. The simple answer is power ballads. It's Celine, it's the early nineties, it's power ballads.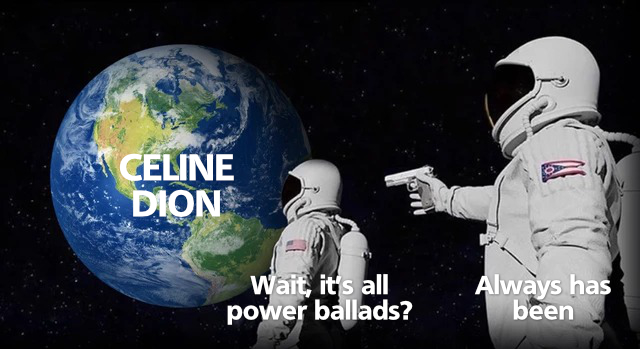 What I didn't know before I put this CD by CD into my CD player is that it's long. Really long. Only two tracks are shorter than four minutes and most are above four and a half. Like all Four Word Reviews, I played the whole thing end to end, but I will admit to not pausing this one when I left the room briefly, because life is too short.
The whole album has the most remarkably synthy, twinkly production, of a type that was quite current in 1993 but sounds way more dated now than some other music of that era. There are synthesizer trumpets in there that have not survived the passage of time with their dignity intact. There's also a lot of electric guitar that's been subjected to the production technique that people seemed to love back then, which is that it's being wildly freestyled and sounds almost out of control, but it's been turned right down so you don't worry about it too much.
Knowing that, and having heard Celine Dion songs before, you now just need to imagine those things stretched out over one hour and seven minutes for the complete Colour of My Love experience. Listening to it is not an experience I regret, but nor is it one I will ever repeat.
In summary, then, my favourite thing about this album was track 10, "Refuse to Dance", which my notes describe as "reasonably palatable", a bit of odd mellow chillout pop that reminded me of Neneh Cherry's "Seven Seconds". My least favourite thing is that "Think Twice" is still stuck in my head and nobody needs that.