I've been having a clear out this weekend and I found this 20-year-old NOW album: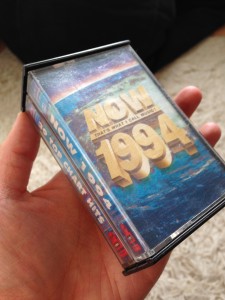 Nearly 20 years ago I got it for Christmas, along with an Alba mini hi-fi system that had a tape deck, CD player and AM/FM radio. Those were the days. Here's a selection of the great hits from this double-tape compilation:
Ace of Base – I Saw the Sign
Whigfield – Saturday Night
Corona – Rhythm of the Night
D:Ream – Things Can Only Get Better
East 17 – It's Alright (The Guvnor Mix)
Aswad – Shine
Reel 2 Real – I Like To Move It
Doop – Doop
Unfortunately when I opened the box, tape 2 was missing, so while you can still listen to Come Baby Come by K7 and Swamp Thing by the Grid, everything that was on the second tape – from Searching by China Black to The Perfect Year by Dina Carroll to Return to Innocence by Enigma – is now gone.
But we all know that tape 1 side 1 was always the best part of the album and the rest was mostly tracks you'd skip.