So, all the rules change. Your carefully ordered plan no longer works. You must adapt. You must find a new way. What do you do?
In my case, the rules meant that a half-hour walk had to be inserted into my commute to work. So I adapted in the only way I knew how, the only way that made sense to me.
I bought a scooter. I'm a scooter commuter!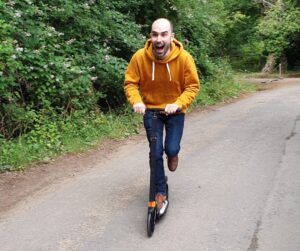 Now, my life is brilliant (see picture). The drudgery of a 30 minute walk twice a day has been turned into a fun 15 minute scooting adventure.
If you have a problem, I suggest you buy a scooter. Doesn't matter what the problem is. Just get a scooter. You won't regret it.