In 2009, the Beans Massive started writing a book, one page at a time. In 2017 they finished it. Now you can read it.
Somewhere out there in the big city a private detective called Kirby Sluice gets a tip-off from a mysterious caller about a bomb at the city arena. When the wealthy and pungent Lattice des Chambres walks into his office, events take a turn for the worse.
But what does the murky world of Kirby Sluice have to do with Eric Bins, a retired pensioner busy buffing his top hat for the big parade? Who is Ursula Curses and why is she being followed down a ski run by a mysterious stranger? What is the evil international supervillain Dr. Rombobulous Combobulation planning? Why are there crabs everywhere? And what does any of this have to do with the Magic Star, twinkling in the sky above the north pole?
There's only one way to find out. Join Eric as he makes his way to the seaside and learn the fate of those who seek… the Magic Star.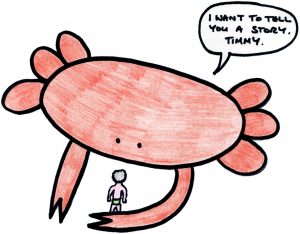 Download The Magic Star (PDF, 32.6 MB)