Welcome to the Time Hole. Do you want to see the past? Do you want an insight into how things once were? Could you handle how much a time share in London was in 1982?
Regardless of how you answer these questions, it doesn't matter. Let me present you with a recent find of mine. I "stumbled" across a copy of the Women's Journal from 1982 (as you do) and inside was a bounty of adverts. And I do mean a bounty, because half the magazine was adverts. I don't think I would have minded paying the 60p for it 36 years ago but my eyes would have screamed over from the sheer volume of glossy makeup, perfume, skincare, appliances and cooking apparel pornography thrust directly into my brain.
Luckily things are a little (little, I'm not referring to you, Little Miss Internet) bit more toned down for 2018. Let's open the Time Hole for a bit. You like butters and spreads, right? So did people in 1982: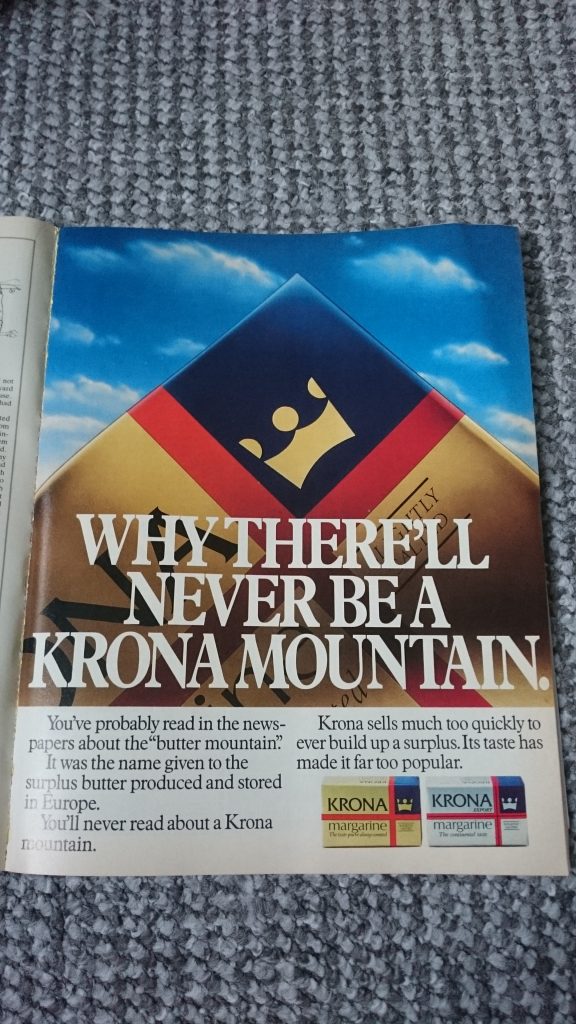 I was planning on scanning the whole thing but, as Emma quite rightly pointed out, every time you turned the page it creaked as though the glue was about to give up and run away to Greece to open a juice bar down on the beach.
I've never heard of this brand. I can only presume it doesn't exist anymore, meaning that that the high demand referred to in the advertisement was actually baloney. Still, I'm sure 95% of the industry is baloney and the "butter mountain" was a real thing seen HERE in all its glory courtesy of our good friends at popular online wank-filtered encyclopaedia Wikipedia.
I wasn't alive then but it sounds as though it was a good time for all.