It's a common occurrence. You go to pick up some matches from your local supermarket and accidentally end up trying to escort the guitarist from Queen from the premises who has just stopped by to pick up a crate of aubergines. When the police take you for questioning you explain the situation and all the charges are dropped. I mean who hasn't confused the match maker 'Bryant & May' with perma-permed musician and astrophysicist Brian May? It's not like mistaking Dave Benson Phillips for a tin of beans; that just wouldn't happen.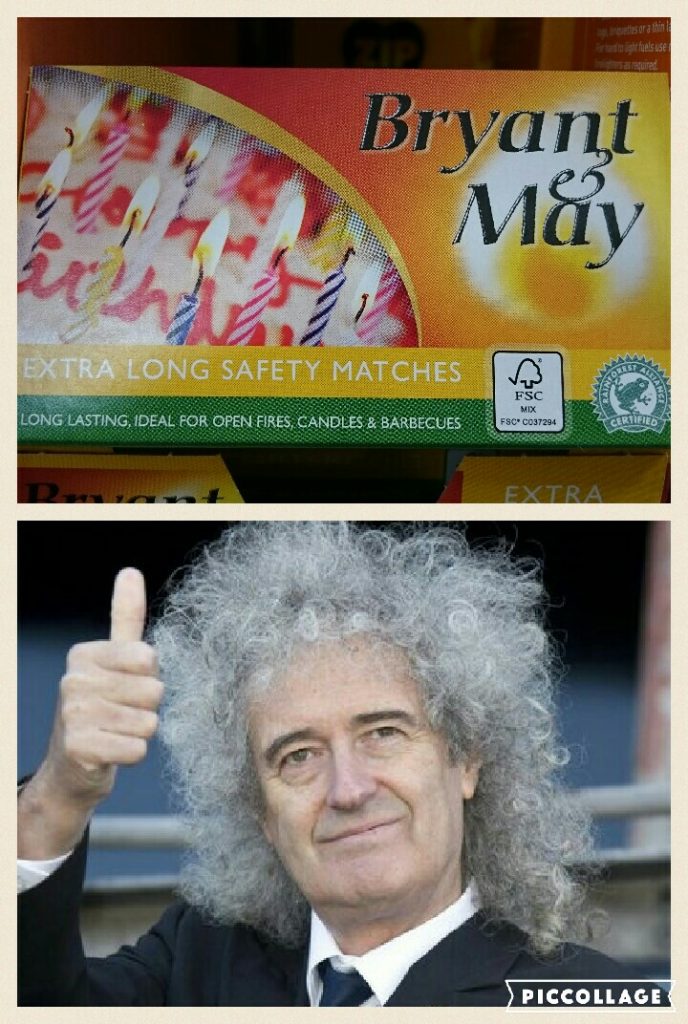 When we peer a little closer though perhaps there's something else to it. Bryant and May were a company created in the mid-nineteenth century specifically to make matches. Nothing else. People were suggesting various other pursuits, such as tailoring, monkey hampers and Louise cream, but they were all ignored for the single reason most of them didn't exist. Matches were definitely the way forward. The company was made public in 1884. Brian May was born in 1947, exactly 63 years later. Surely that has to be something more of a coincidence.
Similarly Brian May was born in Hampton, Middlesex. The original Bryant & May factory was located in Bow, London. Only 22 miles or so between the two and, accordingly to Google Maps, it takes over an hour and a half to drive in current traffic conditions.
Why has nobody investigated these things beforehand? Is it a conspiracy that someone, possibly Roger Taylor also from Queen, tried to cover up?
The matter gets even weirder when you then take into consideration Arthur Bryant and John May, the two detectives created by Christopher Fowler for his series of crime fiction novels. They are primarily based in London. Bow is in London and Middlesex is but a stone's throw away. One of them smokes a pipe which must have been lit by matches. It's all coming together the more I think about it.
Also May is the fifth month of the year. There have been 15 Bryant and May detective novels, which is a multiple of five. Brian May has been an active guitarist since 1965. There are five letters in the name 'Brian'. Somehow all three of them are connected in a way that is still yet to be fully deciphered. I think I'm up the challenge though, at least once I've finished my stint as a quarry sprayer. If I, or me, or maybe even myself can solve this puzzle then it will guarantee notoriety for the rest of my days.