It was my birthday, obviously, but as an adult man with his own bank account I very rarely have a list of gift-sized things that I want but don't yet have. As a result, when Kev and Ian came knocking with birthday questions, the only thing I could think of was that I needed a toolbox because the house is littered with all sorts of DIY paraphernalia.
They sent me some money. I ordered the one I wanted. Yesterday it arrived.
It's enormous.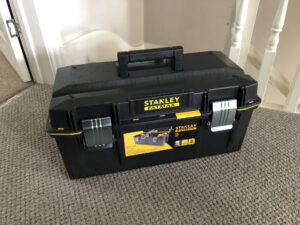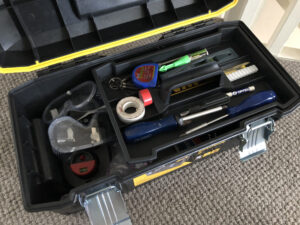 In many ways, that's great, because it has absorbed not just all the tools I own, but also a range of other miscellaneous things, including a set of 100 drill bits in its own heavy duty carry case, a picture hanging kit, several pairs of goggles, miscellaneous other items of workwear, and it still has room to spare. In other ways it's a bit dispiriting because the measurements of this box match the measurements on the listing I chose (I checked them) and yet somehow I failed to appreciate that I was ordering a toolbox that is only marginally smaller than my car.
Still, there's plenty of room to add more stuff in future, which is good, and if I ever go camping, I'll just take this and sleep inside it. Win win. Thanks everyone.