What you didn't know is that secretly I wanted most of my face to be a giant mouth.
Hello and welcome back to my face. Nice to have you back. I have hinted at the technological advances in previous messages (in fact, there's been a lot of bants about my visa/volto) so without further ado I present you with My Face Version 2.0: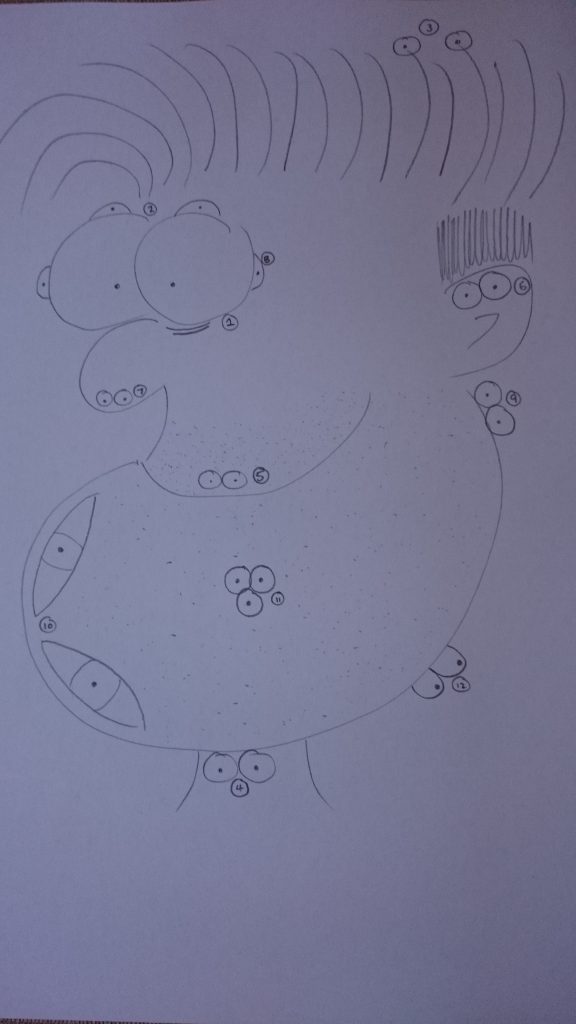 1. Original Eyes – the original but not necessarily the best, as my prescription gradually gets worse with each opticians appointment.
2. Viewing Eyes – for my viewing pleasure.
3. Peering Eyes – the ones my peers are most jealous of.
4. Seeing Eyes – the best sight that money can buy (or chin boobs as someone once referred to them as).
5. Glimpsing Eyes – I'm sorry, was that a cat carrier full of empty beer cans? Let me take a glimpse.
6. Spotting Eyes – still a good back up pair when peering is out of the question. They have been moved from the top of the ear to underneath so the ear itself now also looks like a face. Handy.
7. Looking Eyes – guaranteed to help when trying to choose between buying one unnecessary thing and another unnecessary thing.
And now for the upgrades:
8. Noticing Eyes – when you can't quite believe what you saw and need a second opinion.
9. Perception Eyes – or percepting eyes, able to perceive things for what they really are.
10. Mysterious Eyes – for confusing people and running away when you've forgotten to bring your wallet to the supermarket.
11. Triple Eyes – when you want people to believe you have psychic powers, the triple always steals the attention in your general direction.
12. Poker Eyes – nobody will call your bluff when you've got these babies on show.
I was hoping to have more at this point in my life yet I am still very happy with all my sets of eyes.
Look at me (ME!) and be inspired.