I like making cards. Making cards is fairly easy and fun providing you know what to draw or write on the front. If you don't then it's a painful and frustrating experience. Thankfully, most of the time I know what I'm doing, which makes a change (ba dum chish!)
It was recently my sisters' birthday. Sisters plural, as in they both had their birthdays, in that despite being three years between them their birthday is on the same day. Which is weird. I decided to crack off a couple of cards in my usual manner.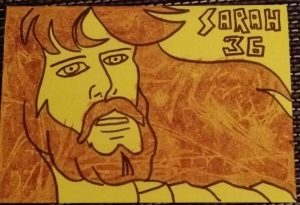 Now I know what you're thinking. This card seems like it was destined to be for one particular sister, but you would be wrong. Without looking in the top-right corner that is.
This card was for Sarah and despite the uncanny resemblance to a certain intepretation of a Christian deity that is not a drawing of Jesus Christ.
I now open up the floor to see if anyone can guess who it is supposed to be.
No clues now.