It's been the hottest April since records began, or something, with temperatures up to 28°C here in the tropical south last week. The flowers are out in force, bees are buzzing around and the sky is a clear, vivid blue. With all that in mind, then, I am unable to explain why this might be a good time to review Christmas with Mahalia, a 1968 album featuring ten gospel versions of Christmas songs with rich orchestral and choral accompaniment. But evidently it is a good time, because here we are.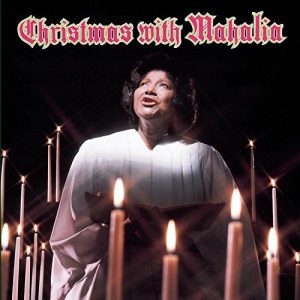 I'm going to say right now that traditional gospel music is not 100% my thing. I don't own as many gospel albums as maybe I should. So when this album was thoughtfully given to me, I knew very little about Mahalia Jackson. Turns out she was a very famous and influential gospel singer and civil rights activist. Good for her, I say, but having listened to her Christmas album, I remain unconvinced that she recorded anything in her lifetime that deserves to be on the radio every hour for the whole of December, and in that respect I think Slade could probably teach her a thing or two.
The sleeve notes talk about how Mahalia has put her own mark on all these songs and brings her own very real faith to them. She actually brought some of her own lyrics to track 7, "What Child Is This", and in other songs brought her own very real mispronunciation to the existing words. I particularly enjoyed the phrase "born is the King of Israllel". Some of the songs are almost unrecognisable in their slowed-down gospelness, and bits of it feel more like a film score than anything else. The first song that runs at anything like a reasonable pace is track 9, by which I mean it gets your foot tapping slightly faster than a funeral dirge.
| Track | Title | Word 1 | Word 2 | Word 3 | Word 4 |
| --- | --- | --- | --- | --- | --- |
| 1 | It Came Upon the Midnight Clear | Expert | warbling, | indecipherable | lyrics |
| 2 | O Holy Night | Big | on | the | "O" |
| 3 | The First Noel | Like | gospel | but | duller |
| 4 | No Room in the Inn | Very | slow, | zoned | out |
| 5 | Silver Bells | About | bells | and | cities |
| 6 | Happy Birthday to You, O Lord | Drowning | in | choral | slush |
| 7 | What Child Is This | A | slow | Christmassy | "Goldfinger" |
| 8 | White Christmas | Bring | back | Bing | Crosby |
| 9 | Do You Hear What I Hear? | I | hear | this | unfortunately |
| 10 | Lo, How a Rose E'er Blooming | Not | a | Christmas | song |
In summary, then, the whole album sounds a bit like the slow intro before a sad Motown song properly gets going: not bad, as such, but you do spend the whole time thinking that in a minute the pace might pick up a bit and it'll sound more festive. My favourite thing about this album is that all the songs start with Mahalia ramping up to her first word with a sound like the roar the actors teach to Prince George in Blackadder the Third. "OOOOAAAARRRRGHHHHHH'm dreaming of a white Christmas". My least favourite thing is that it doesn't really sound Christmassy at all, but then maybe that's what makes it the ideal Christmas album for a warm day in late April.