Back in about 2004, when I was at university, I attended a guest lecture by Pete Waterman. The university had given him an honorary doctorate, for reasons that were largely to do with the campus being in Warrington and Pete Waterman being about the only person of any note to come from Warrington who wasn't Kerry Katona. Perhaps Chris Evans was busy.
He said he was often asked, after the many chart hits of Stock Aitken and Waterman, what was the secret formula for chart success. "There is no formula," he proudly told us. You have to do what is right for the song and for the artist. Oddly, when discussing what was right for the song and the artist, he chose not to mention an album he'd put together four years previously called Motown Mania.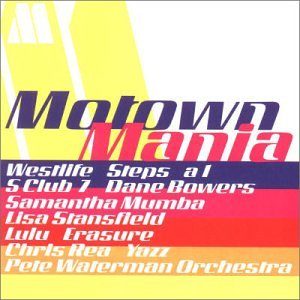 What a rollercoaster ride this one is. Not an album by a single artist, but twelve Motown covers performed by twelve different artists, with no particular unifying theme to the people performing them, the musical style they choose or the songs they attempt. The unifying theme, I think, is Pete Waterman himself, and the names that happen to be in his Rolodex.
It's very much a Waterman production, start to finish: the "Pete Waterman Orchestra" (who knew that was a thing?) provides the backing to most of the songs, as well as doing one on their own, and all the tracks are produced by Pete and mixed by Paul Waterman.
The thing this album most brings to mind, as you listen to it, is the question "why?". Why produce a Motown covers album in 2000? Why choose this particular grouping of talent? (Dane Bowers and Chris Rea on the same album, for Christ's sake.) Why, indeed, make it at all? Why does it exist?
We'll look at some of the songs in more detail and ask more existential questions shortly, but first let's see how this thing breaks down.
| Track | Artist | Word 1 | Word 2 | Word 3 | Word 4 |
| --- | --- | --- | --- | --- | --- |
| 1. Heaven Must Have Sent You | Lulu | Mediocre | Motown | midi | mediocrity |
| 2. Too Busy Thinking About My Baby | Steps | Very | Steps: | a | tragedy |
| 3. (I'm a) Roadrunner | Chris Rea | He | brought | his | guitar |
| 4. Signed, Sealed, Delivered (I'm Yours) | Samantha Mumba | Inexplicably | accompanied | on | sitar |
| 5. You Keep Me Hangin' On | Lisa Stansfield | Kim | Wilde's | was | better |
| 6. I'll Be There | Dane Bowers | Bizarre | boybandesque | country | ballad |
| 7. Love Hangover | Yazz | Strange | Des'ree/ | disco | crossover |
| 8. Baby Love | Erasure | Acoustic | with | bathroom | echo |
| 9. Ain't No Mountain High Enough | Pete Waterman Orchestra | Cheesy | radio | advert | version |
| 10. Lately | S Club 7 | Largely | featureless | album | filler |
| 11. What Becomes of the Broken Hearted? | Westlife | Turning | gold | into | Westlife |
| 12. Three Times a Lady | a1 | Slow, | twinkly, | completely | pointless |
If anything unifies these songs it's the production choices. They're all short, which is a blessing, and they all just sort of stop at the end – no finish, no flourish, no repeat to fade; they all just give up quite suddenly. They also all sound like they've had the life sucked out of them; great songs rendered into utterly throwaway pop.
There are some memorable things here. Yazz, it turns out, has a really good voice, though singing a forgettable cover of Love Hangover isn't a great showcase for it. S Club 7 also have hidden depths. Unlike, say, track 2 – which is Steps doing to "Too Busy Thinking About My Baby" what they do to all songs – or track 3, which sounds so much like any Chris Rea album track that you have to stop and think if it's a Motown cover at all, the S Club 7 song doesn't sound like you'd expect. I'm not sure what it does sound like; my notes say "like a lounge singer over a Groove Armada sample", though that makes it sound a lot more interesting than it was. But it's a long way from "S Club Party".
The lesson we can take away from this is that I'm not sure I agree with Pete Waterman's claim that there is no formula. There was a formula at Motown Records: it was a factory production line and it was hugely successful. There was also a formula for Stock Aitken and Waterman, and they were a miniature 80s Motown in their day, turning out impressive volumes of chart-topping pop music. What you can't do is take songs written for one formula and apply someone else's formula to them. And if you don't believe me, there's a 12-track compilation album I can lend you that shows what happens when you do.
In summary, then, my favourite thing about this album was at the end of Yazz's "Love Hangover" cover, where they added the line "toot toot, beep beep, love!" just as the song finished, which I'm pretty sure wasn't in the original. My least favourite thing was track 11, which serves as a horrifying reminder that everything Westlife touch turns to Westlife.