You will probably remember that, some years ago now, Ian and myself decided that the best way to name a company was to use the name of the person followed by the thing their company did. That way, everyone knew where they stood and there could be no uncertainty. "Peter's Window Cleaning" is a good company name. "Lucy's Cafe" is another.
You can see the problem of badly named companies everywhere. "Boots", for example, is a bad company name because it's actually a chemist and doesn't sell any kind of footwear. Having been founded by a man called John Boot, its name should obviously be "John's Medicines".
I bring this up because I would like to share with you the worst company name in the world. It's a hair salon I pass every day on the way to the station. It's called "www.comb".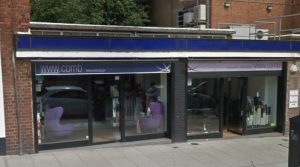 I find it hard to understand how anyone thought this was a good idea. "www.comb" sounds stupid when you try to say it out loud. It's not actually the web address for the company (that's www.comb.org.uk, itself pretty misguided because ".org.uk" is meant for non-profit organisations, but whatever). The name is, however, specifically designed to look like a web address, so for some reason the company has deliberately been given a name that is formatted as a web address but which isn't the web address of the company. The only way you can use the company's services is by physically going into a shop, and there is no sense in which this is an online company, so having the abbreviation for "world wide web" in its name is meaningless. And of course if you go into a hair salon, you would hope that using a comb is not the pinnacle of their skills. You'd hope they're good at scissors, and hairdryers, and styling tongs, and that sort of thing. Being good at combs shouldn't be their big sell.
Let's be clear: the name of this business should probably be "Helen and Lisa's Hair Salon". Choosing a different name would be sub-optimal but acceptable. Choosing the name "www.comb", though,  is madness and must be stopped.