In a move that Kev will find outright baffling, I've just published another Book of nonsense generated earlier this year. This one is titled I Bought this from Steve for a Double High Five, mainly because that's the first thing written in it.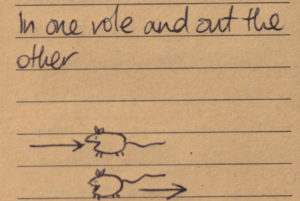 It was written (ha! "Written"!) in June this year by just Chris and Ian, on a weekend where Kev was not present. That's a break with tradition, to be sure, but it's still a valuable record of many insightful conversations and groundbreaking ideas, and deserves to be placed online where the whole world can read it and learn from it.
Among other things, it includes:
MC Jellybowl spittin' rhymes
Potential titles for Ian's forthcoming book on the history of Middlesex
Nicky Campbell spinning the Wheel of Vittles
All the Tenniversary nostalgia, including the Poignancyometer
Heaven only knows what it looks like to someone who wasn't there. Maybe Kev can tell us.
You'll find it on the Books page.