A good cover version can make the world a better place. One talented artist taking the work of another, and filtering it through their own lens, can bring new depth or a different sound to something familiar. The best cover versions take something wonderful and turn it in new and unexpected directions to produce something else that's wonderful. Have you ever heard Stevie Wonder's version of "We Can Work It Out" by the Beatles? Have you heard David Bowie covering The Kinks' "Waterloo Sunset"? A good cover version can be glorious.
A bad cover version, on the other hand, adds nothing. Singing your way through someone else's song just to say you've done it will only make your audience wish they were listening to the original, because the original is associated with happy memories and was made with a conviction that the cover is entirely missing.
If you would like to listen to twelve cover versions in that second category, plus a badly made "megamix" and one track of library music that seems to have got lost and arrived here by mistake, then the album for you is Discomania, a compilation of genuinely dreadful music released by Mercury Records in 2004 when they could have just as easily not bothered.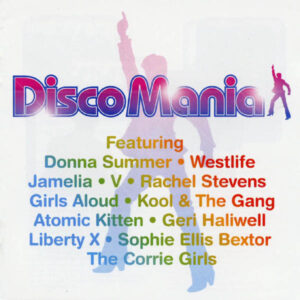 That gets to the heart of the matter, for me. Why? Why was this ever made? It's not for people who love disco music, I'm fairly sure – first, because if you love disco, you'll just listen to the originals, and second, because most of these don't sound like disco songs once they've been covered. Everything here just sounds like the early 2000s. Some of the songs have an extra reason not to sound like disco, which is that they were never disco music to begin with. At least two ("Knock on Wood" and "Sunny") were soul music.
Among the many crimes committed here is the total sidelining of Kool and the Gang. Three tracks claim to include them – they're on tracks 3 and 12 as Kool and the Gang featuring Liberty X (Jesus wept). They're also on track 9 which is, if you can believe the absolute cheek of this, Atomic Kitten featuring Kool and the Gang. But when you listen there's no sign of them. Where did they go? What happened to them? Were they kidnapped by Westlife?
Let's get down to business.
| Track | Artist | Word 1 | Word 2 | Word 3 | Word 4 |
| --- | --- | --- | --- | --- | --- |
| 1. No More Tears | Donna Summer & Westlife | Just | let | Donna | sing |
| 2. If I Can't Have You | Jamelia | Bland | but | mercifully | short |
| 3. Fresh (Brad Gilderman Remix) | Kool and the Gang feat. Liberty X | No | sign | of | Kool |
| 4. Lady Marmalade | The Corrie Girls | Mocha | chocolata | no | thanks |
| 5. I'm Every Woman | Girls Aloud | Sounds | like | karaoke | version |
| 6. Can You Feel It | V | Evidently | they're | a | boyband |
| 7. Knock on Wood | Rachel Stevens | Horrendous | Casio | keyboard | beat |
| 8. It's Raining Men | Geri Halliwell | You've | heard | this | travesty |
| 9. Ladies Night | Atomic Kitten feat. Kool and the Gang | No | Kool | here | either |
| 10. Yes Sir, I Can Boogie | Sophie Ellis Bextor | Wrong | accent | for | "boogie" |
| 11. Sunny | Boogie Pimps | What's | this | doing | here? |
| 12. Fresh (Bimbo Jones Remix) | Kool and the Gang feat. Liberty X | NO | NOT | THIS | AGAIN |
| 13. Donna Summer Eternity Megamix | Donna Summer | Awkward | Jive | Bunny | interlude |
| 14. Dancing Through Eternity | Eternity Orchestra | Dreadful | disco | library | music |
There's a lot going on there. Donna Summer performing with Westlife is not something I thought I would ever see, nor is it something I would wish to experience again. That song is at least slightly redeemed by Donna singing "goodbye mister" in the backing vocals, and Westlife replying "goodbye sister", which got an actual laugh out of me. I also have questions about the mysterious "V", who I've never heard of before. They sound like any early 2000s boyband, but for as long as they remain veiled by anonymity they will never have to face justice for their cover of "Can You Feel It".
Some googling revealed the reason for this album – it's a tie-in to a one-off ITV show with the same name where most of these people performed. I'm glad I missed it. But I am still asking why. I want to know why these specific 14 tracks were put together.
Eight are naff cover versions that appeared on TV, but padding it out are two remixes of the same song; two existing singles by Geri Halliwell and the Boogie Pimps (not a pairing that often share a bill); one half-arsed mix of bits of Donna Summer songs, which doesn't work because they're all different tempos but is at least an opportunity to hear some actual disco music; and one absolutely abominable instrumental by the "Eternity Orchestra", whose members exist only inside a Yamaha keyboard. Apparently that was the theme tune. It's just a mess.
When I put this CD in the computer, Windows Media Player recognised it, filled in the track names, and showed me that other users had collectively given it a rating of 0.5 stars out of five. They are right to do so. This is a terrible, terrible album. In conclusion, my favourite thing about it is that one of The Corrie Girls was Lucy-Jo Hudson, who went to our school and was in the year above us, though I don't actually remember her. My least favourite thing was absolutely everything else.