Here we are again, starting a whole new year with the unnerving feeling that if we go outdoors for any length of time we will cause the immediate and irreversible end of all life on earth. Staying in and doing nothing has its charms of course, not least the fact that I can wear the same pair of pyjamas all day long for a whole week. But there's not much to write about.
Back in May I posted a series of photos taken on that day in previous years, and it was so well received, and I was showered in such huge volumes of adoring fan mail, that I decided to do it again. So, let's find out: what was Past Chris doing on this day in history?
One year ago today
I was delighted to have introduced my new team of identical yellow mugs to work, and proudly photographed one on my desk. As I write this (at work) one is sitting next to me again now. I wrote a blog post to mark this important moment.
Two years ago today
Flying back from my winter holiday in Madeira, and realising that I hadn't really got myself a souvenir of the trip, I searched the airport's duty free shops and was delighted to find this beautiful memento, which will serve as a reminder of my time on this exotic and fascinating island.

Three years ago today
I was horrified to discover the existence of this product, during a trip to B&M Home Stores, an experience that was already horrifying enough. It is, in every way, a terrible shame.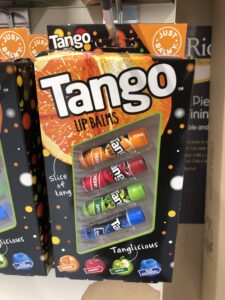 Four years ago today
I was outdoors four years ago, taking advantage of the complete absence of a global pandemic to travel to another part of the country, and using my legs to walk around some of it. While there, I discovered this sign, and later compared the view in question to my own face.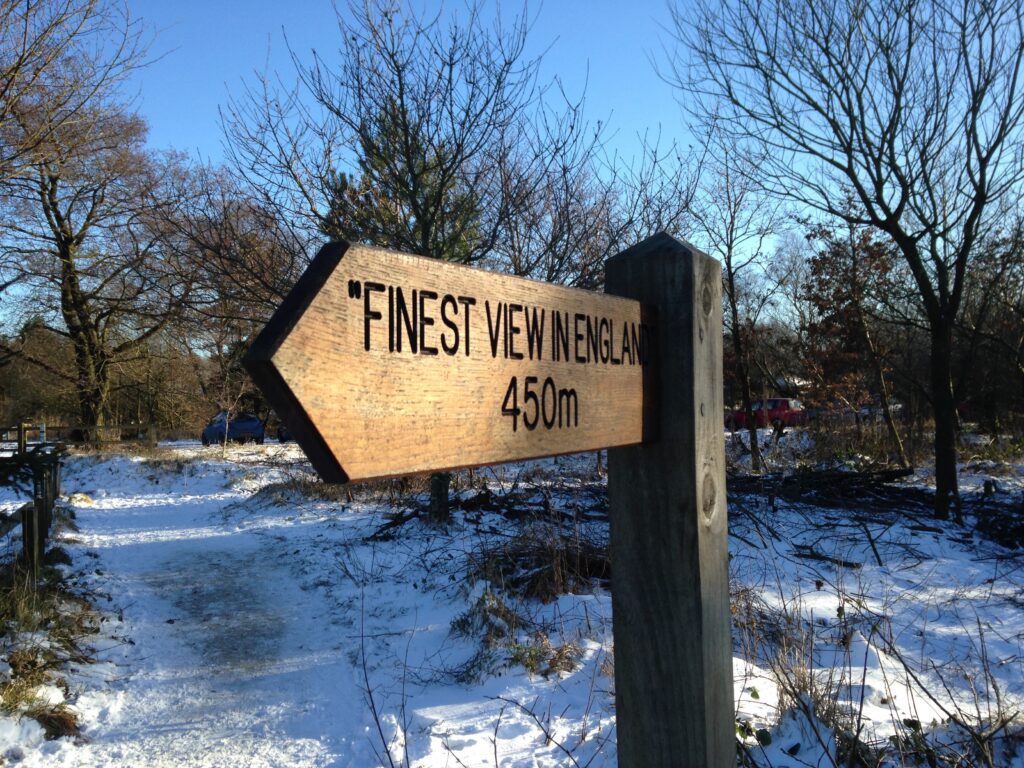 Nothing much was happening five years ago today.
Six years ago today
I don't know why I was photographing this, but I took a picture of the DVD box for AlCam 4, a home movie that Al and I made in 2003 and which has since been completely lost. I still have the DVD case, but there's no disc inside, and there never was. I made it when I made the boxes for the whole AlCam series, in the hope that we'd still find it somewhere on a tape. We never did.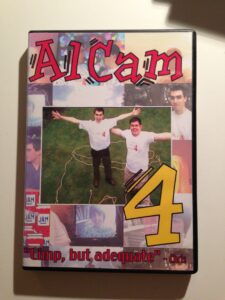 Seven years ago today
I was outdoors again, using my legs to stomp all over the place, this time along the Thames near Greenwich with Joe. Somewhere along the riverside we found a statue of a Naval person, maybe Nelson or one of those lads, which had a chair next to it.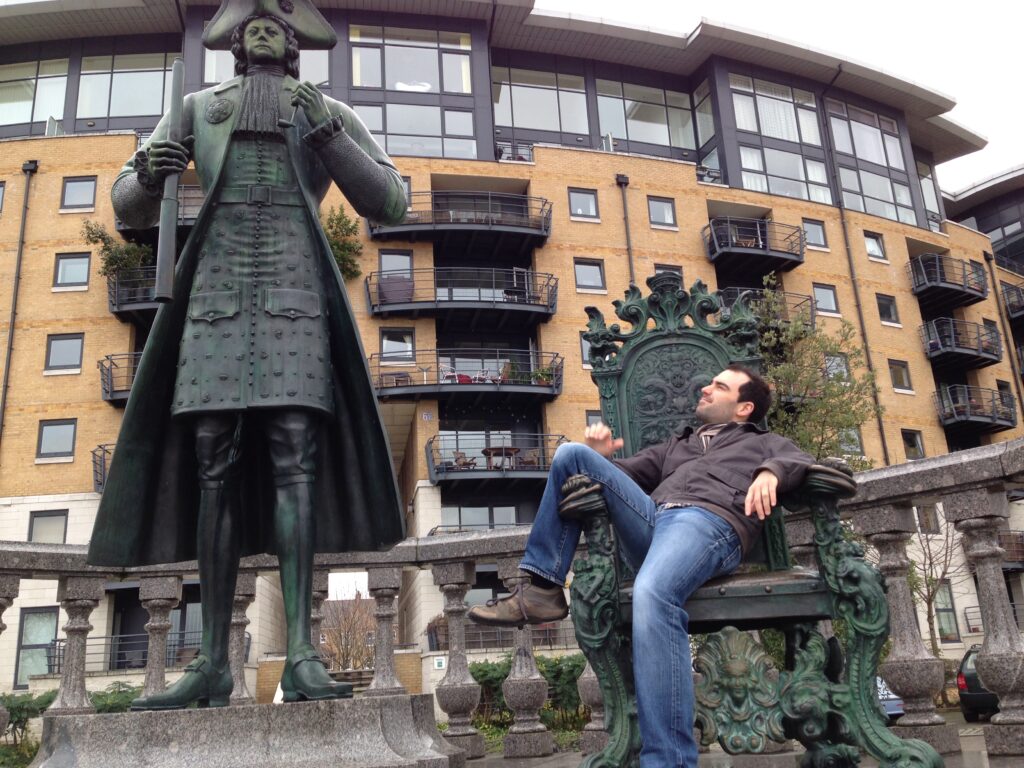 Eight years ago today
It had been snowing in Crystal Palace, an unusual event because London's climate is tropical and it enjoys year-round sunshine and temperatures between 30 and 40 degrees Celsius. The freak weather had caught shopkeepers unawares, as this picture of the tasty wares stacked outside a vintage tat emporium shows.
In 2012 and 2011, I don't know what I was playing at on the 16th of January, but it evidently didn't involve taking any photos.
Eleven years ago today
There had also been snow in London eleven years ago, and I had celebrated by covering the entire front yard of our flat in Streatham with the word "snow" in footprints. I then went back upstairs and took this picture of my handiwork. (Or possibly my leggiwork.)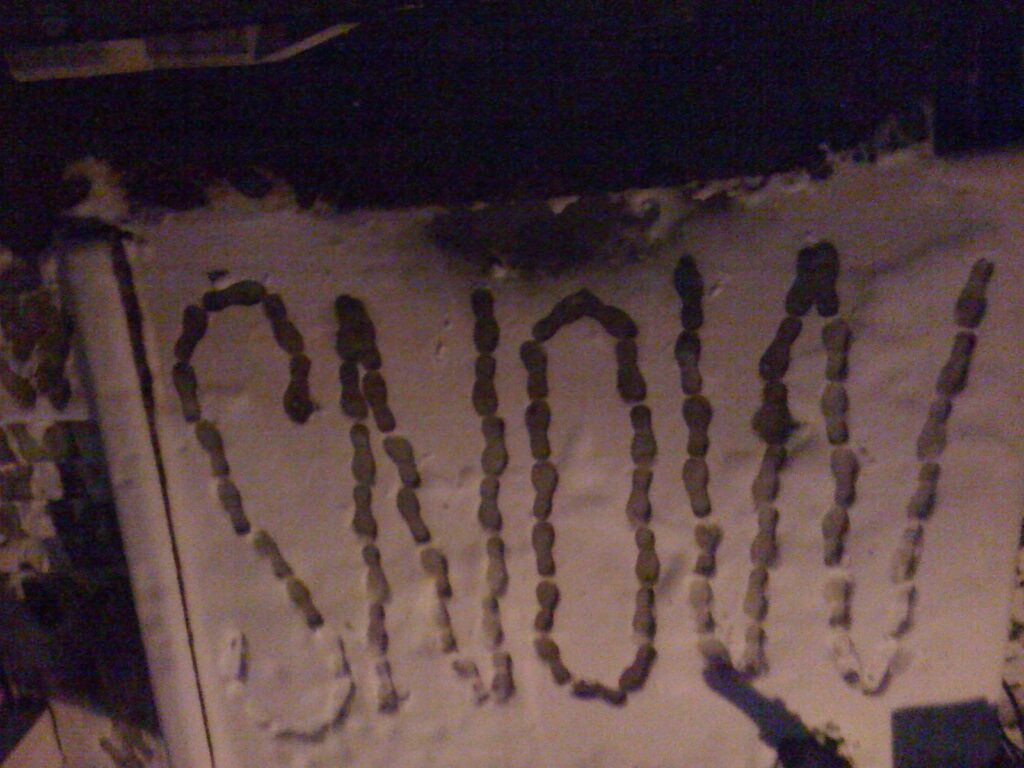 Twelve years ago today
It has been twelve full years since I left my flat in Streatham to go to work, walked up to the top of Gleneldon Road, climbed aboard a number 159 bus, and found this little hand-drawn sticker in front of me.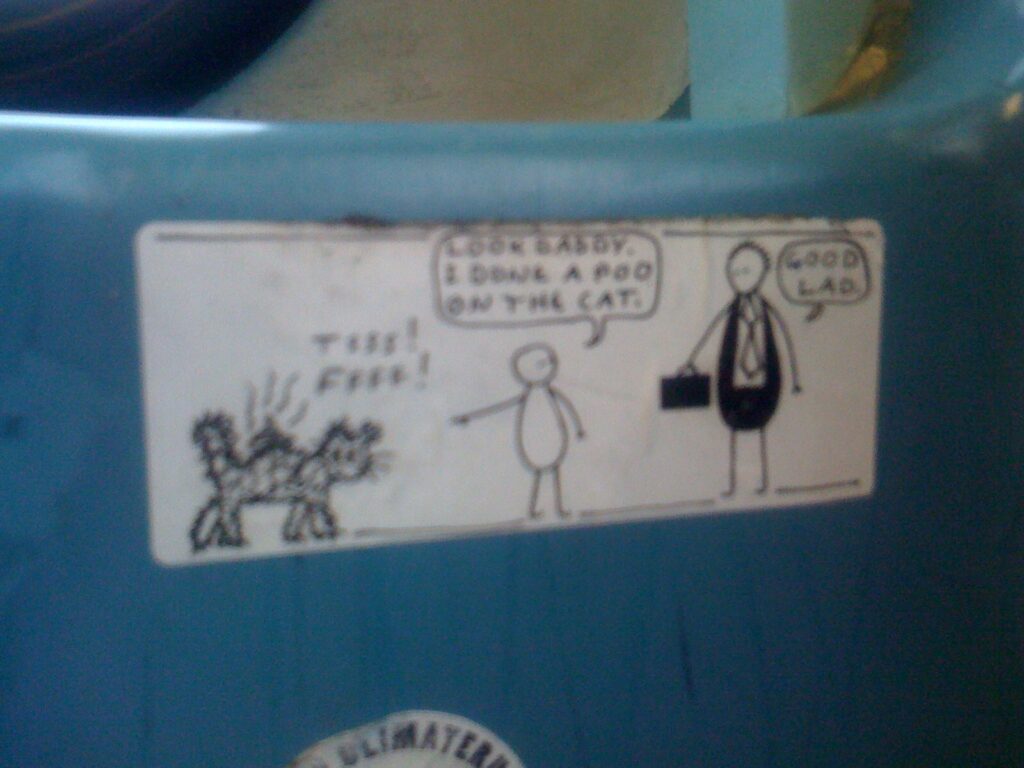 Thirteen years ago today, I hadn't yet bought an iPhone, so I don't know what I was up to.
The end.