Last weekend was mostly spent discovering how difficult it is to be a rapper. Not only in spirit but also in words, and that whilst I may be adept at sweating lyrics I'm not particularly great at spitting them. In any case eventful as the Saturday and Sunday were they could not prepare me for what was about to happen on the train ride home.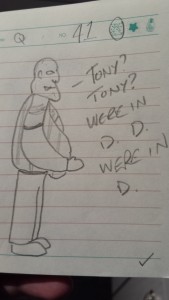 Kevin was selfish enough to leave the train at York to go home and see his wife, or whatever. What was I supposed to do for the next hour and a half until I reached Newcastle? Luckily we had clocked an acquaintance of mine in the other carriage, Tony, and thus once Kevin had departed I moved down the train to sit with Tony and his friend Tony. Their other friend, Tony, had unfortunately had a few too many drinks before getting on so when he tried to leave and piss on the platform it took Tony, Tony and Tony to restrain him and drag him back to his seat.
Tony meanwhile regaled me of their antics over the weekend, which mainly consisted of football, sausage rolls and soiled pants. Tony couldn't help himself and bellowed down to his counterpart, Tony, who had sat in the wrong seats, and ridiculed him openly much to the bemusement of the other passengers. Tony had passed out, which was for the best. It also meant that Tony and Tony could join myself and Tony for a few drinks of our own.
It didn't take long before Tony was waxing lyrical about all manner of subjects. It reminded me how lucky I was to know these people who were so generous and kind and lived a rich and wonderful life. One only had to gaze upon the cheery faces of the rest of the carriage to know that I had made the right decision to move into the group and join in with the camaraderie.
Newcastle station came all too soon and it wasn't long before Tony and Tony climbed into the back of Tony's car and all four of them left into the darkest night. Tony helped Tony into a taxi leaving Tony to wait for his wife to pick him up.
I only wish every journey could be as memorable as this.