We're all on the lookout for a flexible workspace these days. Somewhere you can just sit down, maybe order a latte, open your laptop and, I don't know, edit a podcast or grow a hipster beard or something.
The other day, while exploring an area I hadn't visited before down in the sub-basement of the 1930s part of the building at work, I found an excellent flexible workspace and wanted to share my find with you. Here it is.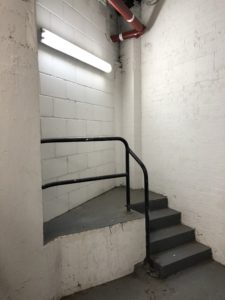 As you can see, it's pleasingly raised above the general floor level, offering a sense of superiority and a view over all the people working nearby (or water heating machinery; I think it was mostly water heating machinery and sewage pipes you could see from here). It also has many useful features:
A light, so the workspace has excellent all-over lighting levels
A railing, so it's very safe
A calming white/grey colour scheme
A red pipe
Obviously I'm claiming first dibs on this, and will be moving in there first thing Monday with my laptop to grow a podcast and edit my beard. But if you want to book a slot yourself, just get in touch.