Whenever a little CD-sized padded envelope arrives in my postbox, it's like a time capsule. Where will we go? Terrible cartoon cover versions of the 90s? Forgotten Gospel from the 60s? Or perhaps, like today, we'll find ourselves transported to a world I'd almost forgotten: the very early 2000s, and a branch of pop music that I mostly tuned out was big in the charts. It was heavily RnB influenced and it gave us "No Scrubs" and Gwen Stefani's second wind and lots of songs with hi-hat and a whole, horrendous wave of misogyny, from "Thong Song" to "Hot In Herrrre". And, at the lighter, poppier end of this best-forgotten spectrum, it gave us Australian soap star Holly Valance, and her 2002 album Footprints.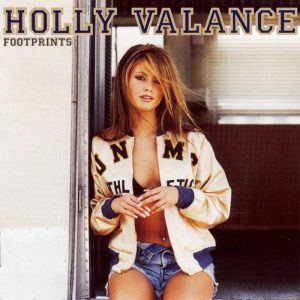 The lead single and the most memorable thing to come off this album was "Kiss Kiss", a cover version of a song that had been big in the Middle East already, and which was sort of interesting because it had that RnB sound but it also had lots of floaty, Disney's Aladdin-style fantasy-Arabia instrumentation. It also had a weird kissy sound as its chorus line instead of words, which was a bit embarassing.
If you thought "Kiss Kiss" was a pretty brazen "come and get it" song for a 19-year-old to be singing then you should hear the rest of the album. Put aside the bang-on-trend production – which I am happy to do, that trend being 16 years old and not something I cared for even at the time – and you appear to have an album conceived and directed by male middle-aged record company execs with their trousers around their ankles excitedly working out what they can get a 19-year-old girl to sing without it actually being pornography. And I might be getting old but I was starting to find it creepy by about track 5.
Anyway: let's see the shape of this thing.
| Track | Title | Word 1 | Word 2 | Word 3 | Word 4 |
| --- | --- | --- | --- | --- | --- |
| 1 | Kiss Kiss | Kisses | instead | of | words |
| 2 | Tuck Your Shirt In | Detailed | dress | code | pop |
| 3 | Down Boy | Quick | yet | queerly | quiet |
| 4 | City Ain't Big Enough | Desperate | to | be | TLC |
| 5 | Cocktails and Parties | Smugly | not | seducing | husbands |
| 6 | Whoop | "Kiss | Kiss", | but | "Whoop" |
| 7 | Hush Now | Eternal | meets | Leg | Jazz |
| 8 | All in the Mind | "Massive | explosion, | magic | emotion" |
| 9 | Harder They Come | It's | no | Jimmy | Cliff |
| 10 | Help Me Help You | Helplessly | slushy | twinkly | bobbins |
| 11 | Naughty Girl | Breathily | dubious | sexiness | attempt |
| 12 | Connect | 2000s | RnB | harpsichord | action |
| 13 | Send My Best | Sensual | acoustic | guitar | finale |
Track 2 is, like "Kiss Kiss", very Middle Easty, and I wondered whether the whole album would be like that, but the answer is no, it's just those two tracks. The other 11 could be Eternal, Destiny's Child, TLC or maybe Cleopatra songs if you weren't listening too closely. It's been produced to death, all twinkles and vocoders, and a lot of songs have that stuttery effect in the bridge where it sounds like the song is skipping in time with the beat. You'd know it if you heard it. All those songs did it in those days.
And it really is all very sexual. Here's some of the lyrics I scribbled down, though this list could have been much, much longer. I don't need to go into the insinuations that "Harder They Come" is making.
"I can be your fantasy, give you what you want"
"Keep you up all night"
"I'm proud to arouse"
"I'm a naughty girl, I can dance what you want me to dance"
In summary, my favourite thing is that, because it was made in 2002, it's an "enhanced" CD featuring the videos to "Kiss Kiss" and "Down Boy", and a special feature about the making of them. I didn't watch them, obviously. I'd heard enough of this by the time I reached the end of track 13. I'd just forgotten that video extras on CDs used to be a thing and it made me feel a bit nostalgic for a few minutes. My least favourite thing about this album is that I'm not sure whether listening to it means I have to go on some kind of register now.