Occasionally, over the years, I've found myself in a conversation about what was at number one in the charts when I was born. These conversations come up from time to time, probably more often than they deserve to, usually prompted by a DJ on the radio talking about it.
For a long time my answer has been "Hello" by Lionel Ritchie, number one in the UK charts in early May 1984. That's quite a fun song to be at the top when I was born and usually gets a laugh. Great. Everyone's happy.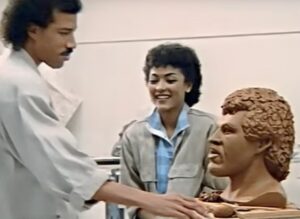 Yesterday I looked it up to see what else was in the charts that week, and was dismayed to find that I had somehow got it wrong.
"Hello" was a UK number one single, and Lionel Ritchie with his blind student making a creepy clay head had a run of six weeks at the top of the charts in spring 1984. But that run ended in April, and by Sunday 5 May Lionel's informal greeting based ballad was only just in the top ten. The number one single when I was born was actually "The Reflex" by Duran Duran, which is nowhere near as much fun. As you can imagine, I was distraught.
To cheer myself up, I decided to see if my birthday number one was better than yours.
Kev
Let's hope Kev is a fan of Frankie Goes to Hollywood because they were apparently everywhere in late July 1984. They were at number one with "Two Tribes", and also at number three with the famously banned orgasm themed classic "Relax". The rest of the top ten is mostly forgettable; at number two is a novelty single spin-off from The Young Ones, and the rest include Tina Turner, Cyndi Lauper and Shakatak. I feel like I'm on safe ground here.
Ian
Well, this is disappointing. Number one in mid-November 1983 was "Uptown Girl" by Billy Joel, a massive singalong smash hit. Adding insult to injury is the rest of the top ten, which contains at least another five stone cold hits: "Say Say Say" by Paul McCartney (and Jacko, but we'll skim over that); "Love Cats" by the Cure; Men Without Hats' ridiculous "Safety Dance"; "Karma Chameleon"; and even "All Night Long" by the very same Lionel Ritchie who callously abandoned me on my birthday.
In summary, then, I am disappointed that my birthday number one turns out to be a Duran Duran single, and not a very good one at that, and thanks to the fact that he basically cheated by being born in 1983, Ian wins.